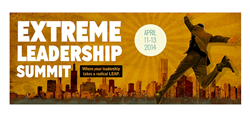 The Extreme Leadership Summit puts attendees in front of leadership experts who are in the trenches everyday, walking the talk. Our audiences are hungry to learn something new, practical, and immediately applicable.
Chicago, IL (PRWEB) March 26, 2014
What do 6 bestselling authors, a rock star, the publisher of SUCCESS magazine, a Doctor of Organizational Psychology, a world-class magician, and the principal of Columbine High School have in common? And, more important, what can they teach you about taking a radical leap forward in your life and career?
Steve Farber, the founder of The Extreme Leadership Institute, is hosting a major leadership event at the Lakefront Embassy Suites in downtown Chicago. The event will run for three days starting April 11. The all-star roster of keynote speakers includes: Jay Jay French, Guitarist and Manager of the iconic rock band, Twisted Sister, Darren Hardy, Publisher of SUCCESS Magazine, Janet Bray Attwood, co-author of New York Times bestseller, The Passion Test, and many other well-known speakers.
Farber is a top leadership consultant to senior executives of many Fortune 500 companies. He has orchestrated the upcoming leadership summit with creativity and productivity as central themes of the conference. "So many seminars are dry and theoretical and, frankly, not all that exciting or practical. We designed this event to be memorable and life changing. We wanted to make sure this Summit would be the exact opposite of boring, which is why we've invited so many extraordinary speakers to participate."
"Unless you leave an event with a specific action plan, it almost isn't worth attending, in my opinion," Farber says. "That's why we've invited speakers who are also practitioners with real world solutions. The Extreme Leadership Summit puts attendees in front of leadership experts who are in the trenches everyday, walking the talk. That's what makes this lineup so exciting. Our audiences are hungry to learn something new, practical, and immediately applicable to winning the day and overcoming the many daunting leadership challenges they face at work. And most of our speakers stay through the entire conference, so our participants get to know them as people, not just 'experts.'"
Farber goes on to cite the example of Jay Jay French, who is the founder, manager, and guitarist of one of the world's most renowned metal bands. "Twisted Sister is a serious business with millions of dollars in licensing deals, concert tickets and record sales," he says. "Jay Jay's presence and point of view is particularly fascinating because most business people don't get to brainstorm with rock stars at all, let alone someone in Jay Jay's league.
"Jay Jay's keynote at our last summit was not only fascinating and practical, it was hilarious, too. Can you imagine the stories he has to tell? Here's a guy who one minute is up on stage in front of 50,000+ fans in venues around the world, and the next he's at his desk managing a thriving brand. He's an extraordinary leader with a lot to give. I'm sure the insights he'll share this year will be equally riveting, unique, useful—and entertaining," says Farber.
Darren Hardy, Publisher of SUCCESS Magazine, will take the stage to offer what Farber calls "a deluge of practical ideas."
"Darren delivers the goods, to put it simply," says Farber. "He brings his vast experience as a highly successful entrepreneur and leader to his work at the magazine, and seeing him live is a real treat."
According to Farber, "one of the fascinating differentiators about Darren Hardy is that he tests the ideas he gathers from the world's most renowned leaders to see if they actually work. Before he shares what he's learned, Darren literally applies those ideas in the laboratory of his own businesses. And we're talking about the practical application of the game-changing concepts and strategies he's learned directly from that rare breed of leader such Richard Branson, Steve Jobs, Howard Schultz, Jack Welch, Tony Hsieh, and the list goes on. He brings tremendous value to this event.
"This Summit is about delivering practical leadership skills that will enrich and revolutionize the business and personal lives of our attendees. I'm very excited to have our friend, Darren, and so many other esteemed colleagues at this event."
Another guest, Janet Bray Attwood, who co-authored the bestselling book, The Passion Test, will teach participants her process for, in her words, "discovering your life purpose."
"To have absolute success in any area," Attwood says, "you must have a passion for doing it. That's a prerequisite."
Janet Attwood's expertise will "help every participant in the room to better define and harness the power of his or her passion," says Farber. "We can all gain a tremendous amount from revisiting the subject of what makes us passionate. With Janet's help I know our attendees will go back to work fired up and ready to go. The power of that new-found passion is sure to enhance your leadership x-factor."
Every CEO knows what it means to face leadership challenges all day long, every day, according to Farber. For that reason, he's bringing in a CEO to speak about what it's like to run a company using the LEAP principles (Love, Energy, Audacity and Proof), which Farber wrote about in his bestseller, The Radical Leap: A Personal Lesson in Extreme Leadership. Farber claims that these principles of leadership can "dramatically improve the creativity and productivity in any organization—and that includes a healthier bottom line. But it's one thing to hear it from me, and another to hear it from a CEO who's road-tested these principles in the real world."
Simon Billsberry, CEO of RevolutionDNA, is just such an individual, according to Farber. "Simon is a huge advocate of our work. He chose to re-design the company he co-founded, Kineticom, by applying the principles we teach at The Extreme Leadership Institute. Using the LEAP framework, Simon was able to organize the company along lines that he says dramatically improved every aspect of the business during his tenure as CEO there." Kineticom, a staffing company, became the fastest growing business in San Diego under Billsberry's LEAP-inspired leadership. As a $50 million staffing company, Kineticom set standards for how to treat employees and contractors in a way that permanently changed the industry. It garnered the most prestigious business awards, experienced a spike in sales, and achieved customer satisfaction, net promoter scores, and employee loyalty on levels that exceeded Apple's.
"Billsberry's new startup, RevolutionDNA, is being built from the ground up using the LEAP principles. He's tested the LEAP strategies in two different companies, and he's coming to report the results to our audience. I'm thrilled he's joining us again this year," says Farber.
Although originally directed at the business market, Farber's three books, The Radical Leap, The Radical Edge, and Greater Than Yourself have also inspired a generation of educators to apply the principles of Extreme Leadership in their classrooms and schools. There is no better example of this than Frank DeAngelis, the principal of Columbine High School.
After being confronted with one of the nation's great tragedies in his own backyard, Frank began a journey of introspection as he worked to sort out the many unanswered questions remaining in the aftermath of the Columbine massacre. Frank continues to ask audiences to ponder the deeper questions about how we lead our children. He asks us to think about how we can guide our teachers in the direction of building healthier and more connected communities at school and beyond. He uses the LEAP framework to create understanding and build bridges that will help prevent such tragedies from occurring in the future. DeAngelis' emotional and inspiring presentation and discussion will get you thinking about how you can improve your communication with your loved ones and colleagues, and his practical wisdom will inspire you to communicate from the heart at work, home, and beyond.
Additional Summit speakers and thought leaders include, Tasha Eurich, Doctor of Organizational Psychology and author of the New York Times bestseller, Bankable Leadership; Phil Town, millionaire investor and author of the New York Times bestseller, Rule #1; Pete Luongo, former CEO of the billion dollar Berry Company and author of 10 Truths About Leadership; MasterMind expert, Chad Coe; world-class magician and former assistant to Ross Perot, Andrew Bennett; and Pamela Slim, bestselling author of Escape from Cubicle Nation and Body Of Work. The event is hosted personally by Steve Farber and emceed by Dianne Kenny of The Extreme Leadership Institute.
A team of handpicked facilitators will conduct small-group Mastermind sessions to help participants apply the speakers' ideas to their lives and businesses.
For more information on how you can attend the Extreme Leadership Summit, log onto http://www.extremeleadershipsummit.com.
About The Extreme Leadership Institute
The Extreme Leadership Institute was founded by Steve Farber to teach the principals outlined in his three books, The Radical Leap, The Radical Edge and Greater Than Yourself. Farber is a sought-after keynote speaker and consultant to Fortune 500 companies. The Institute is sponsoring the summit and also offers certification programs for speakers, facilitators, and consultants seeking to master and teach the principals of Extreme Leadership in corporate settings.