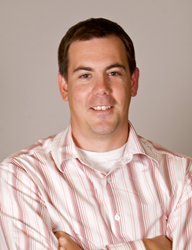 'By further refining the operational practices that helped us become the first ever JD Power Certified Call Center, Andrew will ensure that we continue to provide our clients with service that is in a class of its own.' - James P. Dunn, CEO
Fort Collins, Colorado (PRWEB) March 25, 2014
Center Partners is pleased to announce that Andrew Reynolds has been named as their new VP of Service Delivery. Andrew brings extensive, diverse operational experience and a focused, results-oriented approach to the role, having worked in multiple director and management positions at Center Partners over the last 14 years. This uniquely versatile background will be utilized as he leads operational efficiency, and performance metrics tracking, as well as defining the company's strategic vision and communicating it to their 4,000 employees. His broad knowledge of day-to-day best practices and high-level corporate strategy will help him as he works alongside the other members of the new executive team to refine and implement goals, procedures, and policies to identify strengths and weaknesses within the company's operations.
"Center Partners is taking a leadership position working with distinguished brands looking for white glove consumer experience," said James P. Dunn, Center Partners CEO. "By further refining the operational practices that helped us become the first ever JD Power Certified Call Center, Andrew will ensure that we continue to provide our clients with service that is in a class of its own."
Reynolds began his career at Center Partners in 2000, after previous experience in the financial services, call center, and restaurant management industries. Andrew's tenure with Center Partners has been marked by a steady upward trajectory, as he's moved from leadership positions on the call floor into successive roles as Client Services Manager and Operations Director. Immediately before taking his new role, he was Director of Marketing and Creative Strategies, where he was responsible for all internal and external sales and marketing strategies for the company. He has worked with many clients across verticals including; financial services, telecom/wireless, technology and consumer products. Andrew serves as a board member for several internal and external groups.
Center Partners is a leading provider of high value customer sales and support solutions for distinguished brands requiring superior consumer experience. Center Partners services multiple industries including retail, financial services, consumer products, media, and technology companies. The company has a 100% US based workforce with 4,000 employees. Center Partners is a proud member of the Kantar and WPP family of companies.