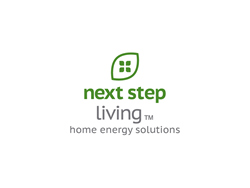 Boston, MA (PRWEB) April 10, 2014
Next Step Living™, New England's leading provider of whole-home energy solutions, was named a contractor by the city of Worcester in a Massachusetts-funded program designed to make Worcester homeowners more energy-efficient.
The Worcester Energy Program's Residential Rebate Pilot, made possible by a Green Communities Act grant from the Massachusetts Department of Energy Resources, began last month and makes $600,000 in rebates available to eligible homeowners. An individual homeowner may qualify for up to $5,000 in energy-efficiency upgrades and up to $5,000 for a solar power project.
"We're urging interested homeowners to take action as soon as possible since the pilot ends when all the rebate money has been distributed," said Next Step Living vice president of outreach Gabe Shapiro. "As a first step, homeowners should sign up for a no-cost home energy assessment."
The home energy assessment (HEA) is a comprehensive evaluation of a home's energy efficiency. In conjunction with the HEA, homeowners must also get a low-cost Energy Performance Scorecard completed. (An EPS costs $60 when done in conjunction with an HEA or $75 when done after an HEA.) It projects the improved energy efficiency a homeowner may expect by implementing one of the upgrades covered by the rebate program. Rebates include up to: $1,500 for a hot water heater; $3,000 for HVAC; $3,000 for a ductless mini split system; $2,000 for insulation; and $5,000 for a solar power system.
"These are significant rebates for homeowners, who can still also take advantage of utility-sponsored rebates and incentives. The Worcester program rebates are additive, making this new program especially attractive to energy-conscious Worcester residents who want to save money and live more comfortably," added Shapiro.
All owners of single-family homes and multi-unit dwellings with four or fewer units may apply to the city for the rebates after getting an HEA and EPS report.
For more information or to schedule a home energy assessment, visit GoodEner.gy/RRP or call 866-867-8729.
About Next Step Living
One of the fastest growing companies in the country, Next Step Living™ is the leading provider of whole-home energy solutions. Headquartered in Boston's Innovation District, Next Step Living makes it easy and affordable for people to live in homes with a low environmental impact. A one-stop service provider for informed advice, funding guidance and expert work done, Next Step Living partners with more than 400 municipalities, civic organizations and leading corporations to deliver energy-efficient and environmentally friendly solutions for better living. Since 2008, Next Step Living has helped New England homeowners achieve more than $16 million in energy savings, which is expected to grow to more than $85 million in the next five years. Next Step Living makes our world better. Please visit NextStepLiving.com for more information.