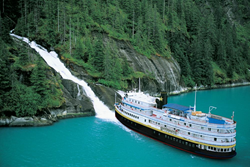 We are pleased to be able to offer our travelers more river cruising options within our own country.
Missoula, Montana (PRWEB) April 02, 2014
The trend of river cruising is steadily increasing within the United States. So often, domestic travel is overlooked, but there are many trip opportunities within our own country. River cruising is becoming a more popular way to travel domestically with more trips emerging to areas such as the Great Lakes, Southeast, and the Northwest.
This Heritage Adventure themed cruises on the SS Legacy incorporate historical exhibits and character reenactments. This vessel is sailing to Alaska throughout the 2014 season. However, due to higher demand for river cruises, the SS Legacy has been designated for river cruises only in 2015. The "Legacy of Discovery Cruise" is one such trip highlighting the Columbia and Snake Rivers. This round trip Portland itinerary focuses on making culture and history come alive for guests. Travelers learn about the impact of Lewis & Clark's expedition, observe the culture of indigenous people groups, visit monumental sites in the area, and sample wines of the region along the way. The SS Legacy, its passionate crew, and the insightful programs all make this cruising experience unique.
The current rates range from $3,195 to $8,995 per passenger on departure dates from April through November. To see the details of all trip options on the SS Legacy visit http://www.adventure-life.com/cruises/ships/ss-legacy-278/legacy-of-discovery-3482/
"We are pleased to be able to offer our travelers more river cruising options within our own country," said general manager Jonathan Brunger. "The mix of history, creative interpretation, culture, and wildlife that the SS Legacy itinerary offers is unique for this travel niche."
River cruising has recently gained popularity in the United States, but it has always been a prevalent way to travel throughout other countries. To see international river cruise options in Europe, Africa, Asia, and South America with Adventure Life visit http://www.adventure-life.com/passions/river-cruising
To explore the world, visit http://www.adventure-life.com or call 800-344-6118.
About Adventure Life
Adventure Life is a company of travelers with a passion for sharing the world with others. Our travel experience runs deep, from years volunteering in rural Africa and Central America, to research trips in Asia, studying in Europe, guiding in the Rockies, and just bouncing around every corner of the world. This deep experience is the reason behind our pioneering approach to travel and award winning itineraries. For nearly fifteen years we have been creating personal itineraries that immerse our travelers in the vibrant colors of a place, leaving both our guests and hosts enriched by the experience. From our beginnings as a Latin America specialist, we now offer private journeys, small group tours, and expedition voyages throughout the world. We pride ourselves on our intimate knowledge of our destinations and our dedication to sharing the world.