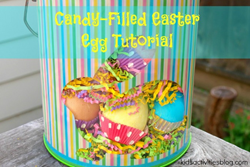 Moms and kids love simple projects that put a new spin on Easter eggs.
Dallas, Texas (PRWEB) March 29, 2014
Smashing candy filled Easter eggs are a hit this season. DIY filled eggs and Easter craft ideas have been released on Kids Activities Blog. Get ready for a fun filled Easter together with the kids this season.
Moms are sharing easy to do egg tutorials for making candy filled Easter eggs. Easter treats like these will be a kids favorite over regular candy filled plastic Easter eggs.
Materials needed to make the cute homemade eggs are white egg shells, a pot of boiling water, mini cupcakes or muffin liners, glue, candy, small toys or stickers, and egg dyeing materials.
Blow out and dye the eggs. Fill the eggs with candy and toys or other Easter treats. Glue muffin tin liners on the bottom of the eggs. Hide them for the kids and be amazed at the fun the kids will have cracking the colorful creations.
Get ready to use the vast amount of plastic eggs that are lying around the house after an Easter egg hunt. This project reuses materials and teaches kids recycling while having a blast.
Materials needed are paper, scissors, paint, plastic Easter eggs, and lids or bowls to hold the paint. Cut out a large egg shape from the paper. Let the kids dip the plastic Easter eggs in paint. It works well to spread out the paint in a thin layer on a lid or bowl larger than the Easter eggs.
Stamp circles onto the egg shaped paper. Another method is rolling the entire plastic egg in paint. Let the kids have a blast rolling the eggs on the paper.
For detailed instructions and to get additional ideas, check out Kids Activities Blog this week. Moms and kids love simple projects that put a new spin on Easter eggs this season.
About Kids Activities Blog
Kids Activities Blog is a website created by two moms (who collectively have 9 children), Rachel Miller and Holly Homer from June Cleaver Nirvana. It is their daily goal to inspire parents and teachers to play with kids. This interactive website publishes simple things to do with kids twice a day. Kids Activities Blog is a great tool for moms and teachers to find kid-friendly activities that create memories and sneak learning into the fun.