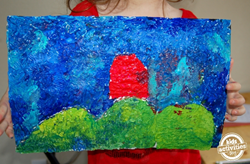 Let the kids experience history though art.
Dallas, TX (PRWEB) March 28, 2014
Let the kids experience history through art. Easy tips to paint like the masters and simple baby games have been published on Kids Activities Blog. Teach the kids about the great impressionist masters and let them create a master pieces all by themselves.
The results are stunning and the kids will have a blast. Changing colors while painting and fixing any apparent mistakes are easy with this simple painting idea.
It is not a fast project. In fact, it takes several days to complete a painting. Materials needed are a sturdy cardboard canvas, the thicker the better, some dry wall compound, plastic knives, and paint.
Use the plastic knives to coat the cardboard with lumps of dry wall material. Try to texture the areas that would be forrest, oceans, or other images.
The hardest part for the kids is to wait until the dry wall component is completely dry. Once the canvas is dry, let the kids have a blast painting on the canvas.
Babies like to be busy and imitate their mother. Provide a simple game on the kitchen floor while emptying the groceries after the next shopping trip. The baby will be playing happily while Mom is busy in the kitchen.
Materials needed to set up the simple baby game are a box with holes on the bottom such as a large yoghurt box from the grocery store and a set of ping pong balls.
Turn the box over and place the ping pong balls nearby. Let the baby practice picking up the balls and playing with the box. Show the baby how to put the ball inside one of the holes. Let the baby have fun playing.
For detailed instructions and to get additional tips, check out Kids Activities Blog this week. Come get inspired to let the babies and kids have a blast this week.
About Kids Activities Blog
Kids Activities Blog is a website created by two moms (who collectively have 9 children), Rachel Miller and Holly Homer from June Cleaver Nirvana. It is their daily goal to inspire parents and teachers to play with kids. This interactive website publishes simple things to do with kids twice a day. Kids Activities Blog is a great tool for moms and teachers to find kid-friendly activities that create memories and sneak learning into the fun.