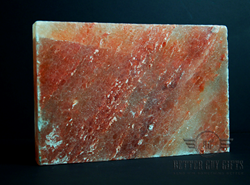 Grilling isn't just a way to put food on the table, it's an art.
Denver, Colorado (PRWEB) March 27, 2014
As the weather begins to warm up so should the grill. Like many outdoor grilling enthusiasts we are always on the lookout for the right tools and equipment to get the job done and keep outdoor cooking interesting.
Face it, everyone is looking to hone their craft and impress friends and family with their mad skills. Better Guy Gifts can help keep the grilling fanatic in the game with some of the hottest trends in outdoor grilling, and the tools to get the job done in style.
One of the coolest new items to hit the market is the Himalayan Salt Plate. This trace mineral-rich hunk of dense Himalayan salt adds a complex depth of flavor to favorite meats, veggies, and seafood without leaving an overpowering salt taste. Like a pizza-stone, the salt plate heats up and cooks any grub to perfection. Not only is this great on the grill, but put it in the fridge or freezer and use it to serve cold meats, seafood, or Hors d'oeuvres.
Tired of trying to figure out a place to store the grilling tools? They are often too long to fit in most drawers and too bulky to fit in a cabinet properly. Try the Rosewood Folding Handle Grilling Tools. Crafted of heavy gauge stainless Steel and solid Rosewood the Explorer Folding Fork, spatula and tongs fold up for portability and easy storage on the rare day the grill isn't lit.
Better Guy Gifts offers access to well thought out gift collections, such as the Premium Grilling Collection, or the ability to purchase individual tools, equipment, accessories, and spices to make sure this grilling season is one for the record books.
All gifts are packaged and shipped in sharply branded and recyclable manly cardboard boxes and come with 100% customer satisfaction guarantee.
Grilling isn't just a way to put food on the table, it's an art.
Stop giving gifts that guys don't want. Send him something better!™