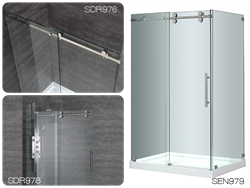 These new frameless models provide a gorgeous custom look and high quality option at a fraction of the price.
Dallas, TX (PRWEB) March 25, 2014
Aston, a luxury bath and shower products company, is excited to announce the release of three brand new completely frameless shower door & enclosure models, along with their new website, Astonbath.com. The three new models: SDR976, SDR978 and SEN979, each feature a modern industrial frameless design, premium clear 3/8" (10mm) ANSI-certified tempered safety glass, premium clear leak-free sealing strips, reversible left or right hand instillation and available in Stainless Steel or Chrome hardware finishes.
The 60" frameless sliding bypass doors – SDR976 and SDR978 models - feature different hardware wheel designs and can be installed in either a left or right handed opening. The SEN979 48" x 35" frameless enclosure includes all the features as the SDR978 model but with accompanying glass panel to create a complete frameless showering oasis experience. All frameless models are available alone or as combo sets with matching 2.5" fiberglass reinforced acrylic shower bases.
"These new frameless models provide a gorgeous custom look and high quality option at a fraction of the price," Aston's Director of Sales Terra Harbour says. "The SDR and SEN models add more depth and diversity to the Aston shower model portfolio offering even more of a choice for homeowners and designers alike."
On the digital front, Aston's new corporate website - Astonbath.com - has launched and features consumer friendly navigation, hi resolution model pictures, product information – such as dimensions, spec sheets and warranty information, technical support, and product registration (coming April 2014). You can also easily fast-link to some of Aston's premier retail partners, such as Home Depot, Overstock and Menards. Home owners, designers, plumbing and construction professionals should make Astonbath.com their first choice when doing research for your bath remodeling needs, and where to go to stay up-to-date for new model release information.
There's a lot to look forward to with Aston. In the second quarter alone, the global manufacturer will be releasing over 20 new shower moderns, including gorgeous frameless tub-height shower doors, frameless tub-height water shields, additional frameless enclosures and more. Stay up to date by periodically checking Astonbath.com and following their Twitter @astonbath.
ABOUT ASTON
Aston specializes in manufacturing luxurious frameless and semi-frameless shower doors & enclosures, luxurious steam showers, relaxing whirlpool & jetted walk-in tubs, claw-foot tubs, and massage shower panels - all which are guaranteed to revolutionize any bathroom renovation into one's personal oasis. The Aston designers strive to deliver modern style with lasting durability and forward thinking engineering for over 20 years.
Aston products are currently available through major online merchants Overstock, Home Depot, Menards and other nationwide eCommerce partners. Aston is a member of the NKBA, NARI and ASID.