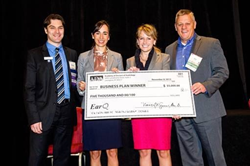 Syracuse, NY (PRWEB) March 25, 2014
For the second year, EarQ will be the chief sponsor of the 2014 Academy of Doctors of Audiology (ADA) Student Business Plan Competition in order to encourage future industry leadership and private-practice ownership.
Open to ADA third and fourth year students, the competition requires applicants to submit a written business plan. Finalists will receive an all-expense paid trip to the ADA Convention on November 6-9 in Las Vegas. There, they will present their business plans in person.
The plans will be judged by a panel of industry professionals on their creativity, feasibility, completeness, cohesiveness, professionalism and polish.
The grand prize winner will receive a $5,000 ADA cash grant to be used to develop their business objectives and skills in order to strengthen their ability to help more people overcome hearing loss.
XXX
About EarQ:
EarQ strives to revolutionize the hearing healthcare industry through innovative business and marketing practices, national public awareness efforts and advocating for excellence in private patient care. Through its nationwide hearing healthcare providers, EarQ will shatter the stereotypes surrounding hearing loss and empower the millions of Americans who experience it to take control of their hearing health.
http://www.earq.com
Like us on Facebook.
Follow us on Twitter.