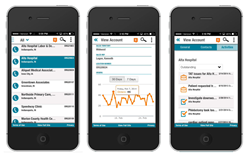 Indianapolis, IN (PRWEB) March 26, 2014
hc1 Mobile allows sales, customer service, operations, and other groups across health systems, including labs and radiology groups, to gain real-time visibility via a smartphone into the most pressing business issues impacting providers and patients. Armed with clinical and business intelligence, hc1 Mobile users can create and manage tasks and cases from creation to resolution to ensure all issues are addressed resulting in an amazing healthcare experience for providers and patients. With hc1 Mobile, each hc1.com client has the power of the Healthcare Relationship Cloud™ in the palm of their hand.
"hc1 Mobile makes it much easier for healthcare leaders to deliver an amazing experience to patients and providers. In this fast paced environment where every second counts, healthcare organizations must find ways to improve quality and service levels," said Brad Bostic, Chairman and CEO, hc1.com. "Now users across all ambulatory service lines and health system departments can securely access hc1 Mobile from a smartphone to determine exactly where to focus when issues arise when they are away from their desktop or tablet. By monitoring the clinical and business activities that determine the quality of the healthcare experience and driving closed-loop accountability by ensuring these issues get addressed, the hc1.com Healthcare Relationship Cloud™ ultimately ensures that patients have an amazing healthcare experience even when healthcare professionals are on the go."
Designed from the ground up to optimize the user experience specifically for mobile devices, hc1 Mobile is intuitive and easy to use on smartphones (such as iPhone and Android devices) as well as tablets. Users can easily view, create, and edit contacts, organizations, and activities while they are out in the field or away from the office.
With hc1 Mobile, hc1.com Healthcare Relationship Cloud™ users have access to the critical intelligence they need to make the best business decisions for their organization while making it possible for providers to deliver the highest level of care resulting in an amazing experience for patients.
About hc1.com
The hc1.com® Healthcare Relationship Cloud™ creates an amazing healthcare experience for providers and patients by optimizing the way laboratories, radiology groups, and health systems manage the provider and patient experience across the continuum of care. A winner of the 2013 Red Herring Top 100 Global Award, hc1.com is in use across over 500 healthcare locations across the globe. Learn more at http://www.hc1.com.