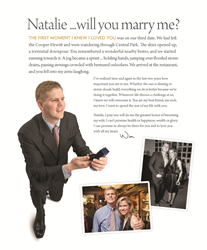 Moffly Media understands how to have fun and hit a home run at the same time—exactly what we try to do each day at Betteridge— so we work well together.
Greenwich, CT (PRWEB) March 24, 2014
If you wanted to propose to the love of your life with a big splash, you might enlist the help of some long-time family friends. That is just what Win Betteridge did when he and Moffly Media put together something sure to become advertising legend. Win proposed in the pages of Greenwich Magazine.
According to Win Betteridge, "Moffly Media understands how to have fun and hit a home run at the same time—exactly what we try to do each day at Betteridge— so we work well together." In fact, it was during a creative meeting with Moffly Media that the idea of an advertorial to support engagement rings sales was initiated. As the conversation continued, Win confided that he would soon be proposing to his girlfriend Natalie and he wanted to make it special. Greenwich Magazine asked if he would ever consider proposing in the magazine. The "Will You Marry Me?" campaign was born.
The Betteridge name has been associated with jewelry for centuries. The company's President and Win's father, Terry Betteridge, is a fourth generation jeweler whose roots date back to the 1700s in Birmingham, England where the Betteridge name was already synonymous with fine jewelry. Founded in 1897 in the United States, Betteridge is one of America's historic, fine jewelers and today is an active members of the Greenwich, Palm Beach and Vail business and civic communities.
Working together, Moffly Media and Betteridge selected four area couples whose wedding announcements have appeared in Greenwich Magazine and who purchased beautiful engagement rings at Betteridge. Highlighting their engagement stories and their rings, Greenwich Magazine created a fun, romantic seven page advertorial. The eighth page was saved for Win's proposal.
Win planned to show Natalie, his girlfriend, the advertorial during a romantic weekend away at Ocean House, one of New England's last grand hotels, in Watch Hill, Rhode Island. In three romantic paragraphs Win professes his love and proposes. The page will serve as a testament to his feelings forever.
Cristin Marandino, Greenwich Magazine's Editor, believes this may be a first. "This is the first time we know of that someone has proposed in a full page magazine ad for all the world to see," she said. "We love it! Many of our advertisers have been working with us for years, and they become like family. Their success and happiness is so important to us."
"We are honored that Win entrusted this special occasion to us," Marandino continued. "To ensure Win's surprise remained just that, we had to be a little James Bond about it all. It was a strictly need-to-know basis among the staff we changed our press date to coincide with when Win wanted to propose and we made sure that Win literally had the first copy off of the press. It was such a fun project."
Win Betteridge commented after the proposal: "She did say 'yes!' We had an unbelievable weekend. Just incredible. The Ocean House staff was great. I asked them to do something a little special: they set up a candlelight dinner for us in the room, with flowers everywhere. A server came out at the beginning of the meal and put down the Greenwich Magazine copies on the table, 'some entertainment for our guests from Greenwich, while you await your appetizers.' Natalie opened up the magazine and quickly found the proposal, at which point I pulled out the ring box and got down on one knee. She cried and jumped into my arms, knocked over the chair. It was magical!"
The proposal and advertorial are in the April issue of Greenwich Magazine, which arrive on newsstands Monday, March 24th.
Greenwich Magazine is one of six titles published by Moffly Media. Moffly Media's titles span Fairfield County and are a trusted authority on the area and its citizens. Moffly Media's publications highlight the excellence, integrity, grace, and altruism of these extraordinary communities. Moffly Media takes their commitment to personal and civic responsibility seriously and consistently meets the high standards of the communities they serve. For more information, please visit their website at: http://www.mofflymedia.com.