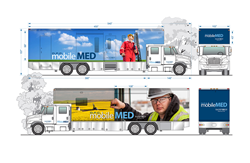 Providing direct, on-site services to oil field employees will decrease the burden on local health care facilities, reducing over-crowding in clinics and emergency departments.
(Bismarck, N.D.) (PRWEB) March 25, 2014
Oil companies asked, and Sanford Health listened.
In a step to meet the tremendous challenge of providing health care in the booming oil fields of western North Dakota and eastern Montana and after working with leaders in the Bakken, Sanford Health is introducing an innovative new service – O.P.C. mobileMED. The service will provide health care services directly in the oil fields for oil-producing companies (O.P.C.) and their subsidiaries.
The key to Sanford Health's plan centers on partnerships with companies serving the Bakken oil fields and includes deploying two mobile clinics on wheels that can move around to meet the needs of employers and one modular clinic – initially in Watford City. The project will mean an initial investment of $2.7 million along with $4.8 million in annual operating expenses. By being in the heart of the oil fields, Sanford Health will focus on building and maintaining a healthy work force with convenient medical services that allow employees, who have an industry-wide 80 percent injury rate, to feel better soon and get back to work more quickly.
"With populations swelling at unprecedented speed, both energy companies and related industries are thriving, while the health care industry has struggled to figure out the best way to meet the demand," said Kelby Krabbenhoft, President/CEO of Sanford Health. "Sanford's approach is unique because we are not just another clinic providing stand-alone occupational medicine, we have the support of one of the nation's largest fully integrated health enterprises."
The mobile and modular clinics will provide work-related and non-work-related health care services, such as employment physicals and screenings, and acute care for sore throats, coughs and other illnesses. Sanford also will do lab work, X-rays, and provide access to telemedicine, emergency transportation or referrals for advanced injuries.
"Sanford made a promise to improve health care in the region," said Craig Lambrecht, MD, president of Sanford Bismarck. "This service is another delivery on that promise."
Employers will be able to customize their program by choosing from a menu of services that fit their specific needs.
"O.P.C. mobileMED is a win-win situation for the industries and local communities," said Joel Blanchard, MD, medical director of Sanford Health Occupational Medicine and O.P.C. mobileMED. "Providing direct, on-site services to oil field employees will decrease the burden on local health care facilities, reducing over-crowding in clinics and emergency departments."
Employers interested in learning more about O.P.C. mobileMED should call (866) 310-5222 or email cindy(dot)thompson(at)sanfordhealth(dot)org.
About Sanford Health
Sanford Health is an integrated health system headquartered in the Dakotas and is now the largest, rural, not-for-profit health care system in the nation with locations in 126 communities in nine states. In addition, Sanford Health is in the process of developing international clinics in Ghana, Israel, Mexico and China.
Sanford Health includes 39 hospitals, 140 clinic locations and 1,360 physicians in 81 specialty areas of medicine. With more than 26,000 employees, Sanford Health is the largest employer in North and South Dakota. The system is experiencing dynamic growth and development in conjunction with nearly a billion dollars in gifts from philanthropist Denny Sanford. These gifts are making possible the implementation of several initiatives including global children's clinics, multiple research centers and finding cures for type 1 diabetes and breast cancer. For more information, please visit sanfordhealth.org.
###