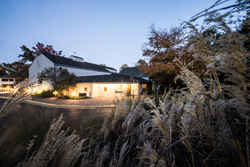 Vienna, Virginia (PRWEB) March 27, 2014
The Milk Carton Kids
Special Guest:
Brian Wright
Monday, April 21, 2014 at 8 pm
$25
In 2011 Kenneth Pattengale and Joey Ryan formed The Milk Carton Kids, a band that amuses and entertains audiences with their hilarious on-stage dialogue, their impressionistic guitar melodies, and their soft, harmonized vocals. Since then, they have toured with other folk rock groups like The Lumineers, k.d. lang, Old Crow Medicine Show, and Punch Brothers. This past year, the duo released The Ash & Clay, an album that is said to be "a further example of the duo's ability to create songs that are both intimate and powerful, bittersweet and inspiring" (Performer Magazine.) Last May, The Milk Carton Kids performed at The Filene Center at Wolf Trap as part of a live broadcast that ran on A Prairie Home Companion with Garrison Keillor. This upcoming performance will be their first appearance at The Barns at Wolf Trap.
Brian Wright is a Texas-born singer/songwriter who began his career by performing on the Austin/Waco/Dallas bar circuit, playing whatever audiences were willing to hear. Wright then decided to move to either Los Angeles or New York – a decision that he determined with a coin toss. Los Angeles won and became a home and inspiration for Wright. There he was able to write and record a series of albums, including Dog Ears (2006), Bluebird (2007), House on Fire (2011), and Rattle Their Chains (2013).
Video: The Milk Carton Kids – "Michigan"
Video: Brian Wright - "Weird Winter"
John McCutcheon
Thursday, April 24, 2014 at 8 pm
$25-$27
"John McCutcheon is one of the best-loved performing musicians in the country. His words combine the objectivity of a hard-news journalist and the sensibility of the Romantic poets. The result is something more universal than either" (Marshfield News-Herald). Wisconsin native McCutcheon began playing piano and guitar as a young boy. Since then, he has learned to play more than a dozen instruments including banjo, fiddle, autoharp, and his signature instrument, the hammered dulcimer – a stringed musical instrument in which the strings are struck with small mallets. His instrumental dexterity earned him the praise of American singer-songwriter Johnny Cash, who said that McCutcheon was "the most impressive instrumentalist I've ever heard."
Video: John McCutcheon – "This Land is Your Land"
Hawaiian Slack Key Guitar Festival
Featuring Patrick Landeza, LT Smooth, Paul Togioka, and other slack key masters
Friday, April 25, 2014 at 8 pm
$25-$30
The Hawaiian Slack Key Guitar Festival at The Barns at Wolf Trap will feature the world's best slack key guitar players, united for an impressive performance showcasing native music of the Pacific. The method of slack key, or ki ho'alu, playing is a style unique to the Hawaiian Islands in which guitar strings are loosened or "slackened" to allow for many distinctive tunings. The festival includes the winner of the 2013 Nā Hōkū Hanohano Award for "Slack Key Album of the Year," Patrick Landeza; LT Smooth, a New Zealander known for his rapid finger picking; and Paul Togioka, a performer who has won "Best Recording by a Slack Key Artist" and "Best Hawaiian Instrumental Recording" at the Hawaii Music Awards.
Video: Patrick Landeza – "Slack Key Potluck"
Video: LT Smooth – "Can't Help Falling in Love"
Video: Paul Togioka – "Molokai Mule Ride"
Tom Paxton
Saturday, April 26, 2014 at 7:30 pm
$24-$28
Tom Paxton is recognized around the world for his ability to sing about the shortcomings of society in a comical way, a tactic particularly seen in his album Comedians and Angels (2008). In the 1960s, the U.S. Army brought Paxton to New York, a city that he fell in love with and chose to stay in after he was discharged. He became an icon of the Greenwich Village music scene, appearing in coffee houses and bars, and eventually making an appearance at the 1963 Newport Folk Festival. Continuing his success, Paxton is the recipient of the 2009 Lifetime Achievement Award from the Recording Academy, an honor which he received at the 51st Annual Grammy Awards. Commenting on Paxton's style and repertoire, The Chicago Sun-Times stated, "[Paxton's] hits like 'The Last Thing On My Mind,' 'Bottle of Wine,' 'Ramblin' Boy,' 'The Marvelous Toy,' and 'Going to the Zoo'…transcended the genre and took root in America's imagination."
Video: Tom Paxton – "I Miss My Friends Tonight"
Tickets can be purchased by calling 1.877.WOLFTRAP or online at wolftrap.org.
For more information, call The Barns at Wolf Trap at 703.938.2404 or our general information line at 703.255.1900.
High-resolution images of the artists listed are available on Wolf Trap's website: wolftrap.org/Media_and_Newsroom/Photos_for_Publication.aspx.
###