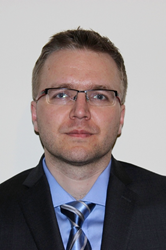 SaM Solutions is expanding to offer IT consulting.
McKinney, TX (PRWEB) April 09, 2014
SaM Solutions, an international provider of custom software engineering services, has announced the launch of Advisory Services; a flexible consulting service. In support of this new service, SaM has acquired Nikolai Komlichenko as Director of Advisory Services. Nikolai comes to SaM with more than ten years of experience developing system architecture and managing custom development projects.
These changes come as the next step in SaM Solutions' move to increase infrastructure within the United States. Wade Brantley, Director of US Operations for SaM, calls Nikolai "a key acquisition for us… [enabling] us to expand our service offerings to include IT consulting."
Through Advisory Services, SaM will cater to clients that lack the in-house resources to analyze platforms and determine the various approaches to completing a software development project.
This will alleviate the uncertainty involved in the decisioning and planning phase of development.
As an ISO 9001 certified company, SaM Solutions understands the value of developing sound process control and process integrity. It is during the early, planning stages of a project that the processes and architecture requirements are developed; experienced input at this early stage is critical to long term success.
In keeping with SaM's flexible approach to resourcing, Advisory Services are provided in the manner that best suits the needs of the client and the project; this includes everything from limited, short-duration engagements to long term roles as a virtual CIO/CTO. In his new role as Directory of Advisory Services, Nikolai will work directly with clients to build sound, successful development projects.
###
About Sam Solutions: SaM Solutions is an international software services and solutions provider with over 20 years of experience; focused on IT consulting and custom software engineering services for both the U.S. and European markets, leveraging global resources. The geographical presence of SaM Solutions covers the USA, Germany, the Netherlands, the UK and countries in the Eastern Europe – Belarus and Ukraine.