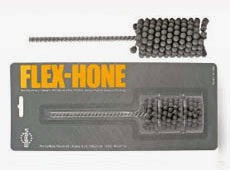 By imparting a superior surface finish to this important brake line component, Flex-Hone® technology promoted proper sealing and braking action.
Los Angeles, CA (USA) (PRWEB) March 25, 2014
Brush Research Manufacturing (BRM), global leader in surface finishing solutions, is announcing a new case study about using a Flex-Hone® tool to rebuild the main bore in a metering valve. By imparting a superior surface finish to this important brake line component, Flex-Hone® technology promoted proper sealing and braking action.
Understanding Metering Valves
In automotive applications, metering valves support balanced braking between a car's front and rear wheels. Typically, these hydraulic valves are used in rear-wheel drive (RWD) vehicles with front disc and rear drum brakes. By delaying the application of the front disc brakes, hydraulic pressure can build in the rear drum brake wheel cylinders.
In addition to ports for brake line connections, metering valves have a main bore with a piston that closes. To ensure proper braking action then, metering valves in older vehicles may need to be replaced. With the right tools and parts, however, these hydraulic components can be rebuilt instead. Flex-Hone® technology can meet this surface finishing challenge, and is also ideal for hydraulic cylinders.
Surface Finishing for Valve Bores
At Muscle Car Research, an on-line forum for classic car enthusiasts, a mechanic documented the rebuild of a metering valve for a 1970 Chevy Camaro. For improving the surface finish of the valve bore, the user chose a 1" cylinder hone from BRM. With its distinctive abrasive globules or balls, the BRM Flex-Hone® tool is also known as a ball hone.
Made with flexible nylon abrasive filaments and double-wire metal stem, Flex-Hone® tools can be used with handheld electric tools or in machine centers. Versatile and easy-to-use, BRM ball hones are also self-centering, self-aligning to the bore, and self-compensating for wear. The Flex-Hone® Resource Guide provides general speed ranges and explains the importance of using a high-quality lubricant.
Selecting and Using Flexible Hones
Flexible honing tools impart a plateau finish with oil-retaining grooves for optimum lubrication. This cross-hatch pattern also reduces seepage in hydraulic applications while promoting longer seal life. In addition to metering valves, automotive applications for Flex-Hone® tools include deglazing engine cylinders.
Flex-Hone® tools aren't designed for use with valve bores that are out-of-round, or that require heavy-duty material removal. That's why users need to inspect the cylinder for problems such as pitting, which can cause leaking. The metering valve for the Chevy Camaro wasn't pitted, however, and a 1" BRM ball hone imparted the proper surface finish for this valve rebuild.
About Brush Research Manufacturing
Brush Research Manufacturing (BRM), makers of flexible honing tools and diesel and automotive brushes, is located in Los Angeles, California. For over 55 years, BRM has been solving difficult surface finishing problems with brushing technology. BRM's Flex-Hone® tool is the industry standard against which all other surface finishing solutions are compared. Visit the BRM website to learn more.
Media Contact:
Heather Jones
Director of Marketing
Brush Research Manufacturing Co. Inc.
4642 Floral Drive
Los Angeles, CA 90022
HJones(at)brushresearch(dot)com
For Immediate Release:
http://www.brushresearch.com/
Ph: (323) 261-2193