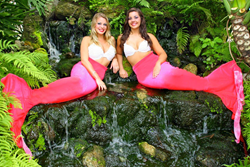 Charleston, S.C. (PRWEB) March 26, 2014
Once the subject of sea lore and myth, real mermaids are making a splash at the South Carolina Aquarium this spring break. For a limited time, The World Famous mermaids of Weeki Wachee Springs State Park will swim amongst the sea life in the Aquarium's Great Ocean Tank, bringing legend to life in a truly unforgettable experience. The interactive family-friendly program will feature the mermaids performing intricate underwater choreography to music three times daily April 12-20, 2014. Guests will have an opportunity to take a photo with one of the World Famous mermaids during or after the show.
Special interactive areas will also be set up around the Aquarium where guests can enjoy hands-on activities focused on conservation efforts to sustain the beauty of these mermaids and the marine life around them.
Hands-on guest experiences include:
-- Interactive education stations
-- Mermaid and sailor puppet theater
-- Mermaid and sailor craft area
-- Mermaid meet and greet
-- Mermaid photo opportunities
The World Famous mermaids of Weeki Wachee Springs State Park in Florida, have been a commercial success since the small-town park opened in 1947. Over the years, they have continued to delight visitors from all over the world, making dreams come true for believers of all ages. The performances at the South Carolina Aquarium are included with general admission. Be sure to mark your calendar to ensure this spring break you experience this enchantment under the sea. Call (843) 577-FISH (3474) or visit scaquarium.org for more information or to purchase your ticket in advance.
Click here for video.
Click here for photos.
For all media inquiries, please contact Kate Dittloff at (843) 579-8660 or kdittloff@scaquarium.org.
About the South Carolina Aquarium:
The South Carolina Aquarium, Charleston's most visited attraction, features thousands of amazing aquatic animals from river otters and sharks to loggerhead turtles in more than 60 exhibits representing the rich biodiversity of South Carolina from the mountains to the sea. Dedicated to promoting education and conservation, the Aquarium also presents fabulous views of Charleston harbor and interactive exhibits and programs for visitors of all ages.
The South Carolina Aquarium, a 501(c)(3) not-for-profit organization and is open Daily from 9 a.m. to 6 p.m. The Aquarium is closed Thanksgiving Day, half day Dec. 24 (open 9 a.m. to 1 p.m.) and Dec. 25. Admission prices are: Toddler's (3 and under) free; Youth (4-12) $14.95; Adults (13+) $24.95. The Aquarium plus the 4-D Theater experience is free for Toddler's, $19.95 for Children, $29.95 for Adults. The 4-D Theater experience only is $6.95 for Children and adults, and free for Members. For more information call 843-720-1990 or visit scaquarium.org. Memberships are available by calling 843-577-FISH.
###