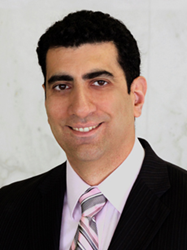 This new capsule colonoscopy is basically a pill with a tiny camera in it that moves through the body.
Beverly Hills, CA (PRWEB) March 25, 2014
The Food and Drug Administration has recently approved a new type of colon cancer test, known as capsule colonoscopy, which allows the user to swallow a camera inside a capsule rather than undergo a traditional colonoscopy. This device is designed to detect colon polyps in patients after an incomplete optical colonoscopy with adequate preparation and a complete evaluation of the colon was not technically possible.
According to Siamak Tabib, MD, a Beverly Hills gastroenterologist, this new method may be a useful tool, but it's not a replacement for a traditional colonoscopy.
"This new capsule colonoscopy is basically a pill with a tiny camera in it that moves through the body," said Dr. Tabib. "The advantage of this is that it's less invasive than a traditional colonoscopy. The drawback is that it's less sensitive and less reliable as a colon cancer detection method."
Patients who take the capsule still have to see a medical professional if anything shows up as abnormal during the capsule colonoscopy. "The only way to know for certain if a polyps is cancerous or not is to do a biopsy. A camera alone can't do that," explained Dr. Tabib.
The current recommendations for colon cancer screening include a first screening at the age of 50. African Americans are advised to get their first screening at 45, however, and those with a family history should do so ten years before the age their relative was diagnosed.
"Tools like this capsule are an interesting development in the fight against colon cancer," said Dr. Tabib. "They can be useful, but it is important to remember that they are not a replacement for the gold standard of a traditional colonoscopy."
Siamak Tabib, MD is a gastroenterologist at La Peer Health Systems in Beverly Hills. He is double board-certified by the American Board of Internal Medicine and the American Board of Gastroenterology & Hepatology. He specializes in conditions of the digestive tract, which includes the esophagus, stomach, small and large intestines, liver, gallbladder, and pancreas. In addition to his work at La Peer Health Systems in Beverly Hills, his private practice strives to maintain health primarily through disease prevention and, when necessary, to intervene with appropriate state-of-the-art treatment methods.
La Peer Health Systems is an outpatient surgery center in Beverly Hills, founded by doctors and focused on providing excellent patient care alongside the most cutting-edge medical treatments available. With 50 world-renowned physicians in 14 specialties, comprehensive medical treatment is offered that takes patients from consultation to diagnosis, treatment, surgery, and ultimately aftercare. The 14 medical departments include orthopedics & sports medicine, gastroenterology, head & neck surgery, colorectal & general surgery, podiatry, ophthalmology, pain management, plastics & reconstructive surgery, gynecology, spine surgery, interventional cardiology, bariatric surgery, thoracic surgery, and anesthesiology. Unlike large hospitals, La Peer's unique structure offers extremely personal care in a safe and controlled environment.
To learn more about La Peer Health Systems, visit http://www.lapeerhealth.com.