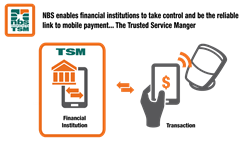 "It allows NFC enabled phones to gain their full potential in the payment world,"
Toronto, ON (PRWEB) March 26, 2014
NBS Technologies, a leading software and equipment provider for financial card personalization, today announced that the host card emulation (HCE) feature of Android KitKat is now fully supported by the NBS Xpressi Trusted Service Manager (TSM). With HCE no physical secure element is required. The secure element is implemented completely in the Android application. Therefore, no UICC chip or microSD card is required and no Mobile Network Operator (MNO) involvement is required to personalize and use an NFC enabled phone for contactless payments.
"This could be the breakthrough our industry has been looking for." commented Robin Ehrlich, chief software architect of NBS Technologies. The KitKat feature introduces an alternative business model for application providers and users that mitigates much of the existing complexity associated with the NFC SE business model. "It allows NFC enabled phones to gain their full potential in the payment world," says Ehrlich, "and the NBS Xpressi TSM solution introduces a flexible total end-to-end solution." NBS has developed an HCE application that supports both Visa payWave* and MasterCard® PayPass®. The NBS Xpressi TSM can be used to personalize the embedded secure element and the phone can be used as a contactless payment card at any POS terminal. No special hardware or third party support is required. The NBS embedded secure element is protected and safe.
About NBS Technologies
For 40 years, NBS Technologies has continued to be a leading developer and provider of equipment for card personalization, EMV compliance/migration, smart card manufacturing and semiconductor handling equipment. NBS Technologies is a wholly-owned subsidiary of Brookfield Asset Management (http://www.brookfield.com), a global alternative asset manager. Focused on property, renewable power, infrastructure and private equity, Brookfield has over US $175 billion of assets under management and is co-listed on the New York (BAM) and Toronto (BAM.A) stock exchanges. NBS Technologies' head office is located in Canada with locations in USA, France and the UK, along with a worldwide dealer network. Please visit http://www.nbstech.com for more information.