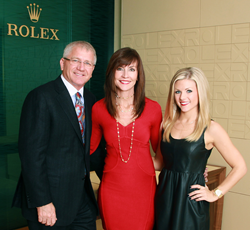 Satin Sapphire is the place to go for the latest jewelry trends and classic must have pieces. With my experience in the industry, Satin Sapphire is my creative outlet to share with reader's inspiration and advice on jewelry style. -Christine Razny
Chicago, IL (PRWEB) March 26, 2014
Razny Jewelers is proud to welcome Christine Razny who has taken her place alongside her parents, representing the third generation of this family owned business. After graduating from the University of Alabama in 2012 with a degree in Advertising, Christine went on to become a Graduate Gemologist. She received her degree in 2013 from the Gemological Institute of America (GIA) in New York City. Christine brings an artistic and knowledgeable eye coupled with a passion for jewelry and watches.
Christine expresses her love for the industry in her new blog, Satin Sapphire. As an avid blog follower herself she felt there was a lack of jewelry advice in the blogosphere, therefore she decided to take on the task to be the voice between the retailer and a younger generation of jewelry and fashion lovers. Growing up in this industry has been an inspiration to her and the motivation behind her GIA Certification. "Satin Sapphire is the place to go for the latest jewelry trends and classic must have pieces. With my experience in the industry, Satin Sapphire is my creative outlet to share with reader's inspiration and advice on jewelry style." – Christine Razny, Graduate Gemologist
With her jewelry expertise and her knowledge of fashion there is no better person for the job! Follow Christine through the jewelry world as she shares her favorite styles, designers and gemstones.
ABOUT RAZNY JEWELERS
Razny Jewelers is family owned & operated. The Razny family represents the world's top brands and offers custom creations. Razny Jewelers is always on the cutting edge showcasing the brightest stars in the jewelry and Fine Swiss Timepieces' world. For over 60 years, Razny Jewelers has defined the essence of what a fine jewelry store should be to their clientele. Razny Jewelers is dedicated to the best combination of old-world and modern values. They are one of the only jewelers in the Chicago area that fabricates custom creations truly by hand. With several bench jewelers on staff, custom jewelry remains their specialty. Their careful attention to perfection and unrivaled craftsmanship turns dreams into reality. In addition, Razny Jewelers has Certified WOSTEP Watchmakers on premises to service your timepiece requirements. Razny Jewelers' integrity, honesty and commitment to unparalleled personal service bring their customers back time after time. Razny Jewelers' stores are located in Addison, Highland Park and Hinsdale.