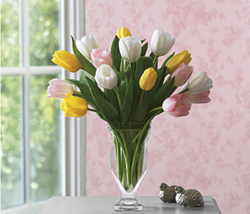 Introducing flowers or plants into the home or office this time of year can really help to lift spirits and generate positive energy and enthusiasm to the surrounding environment
Baton Rouge, LA (PRWEB) March 26, 2014
Spring has arrived! It's time to chase away those winter blues, and there's no better way than to bring spring indoors with a vibrant bouquet of spring flowers from the 1st in Flowers! Spring Collection.
"Introducing flowers or plants into the home or office this time of year can really help to lift spirits and generate positive energy and enthusiasm to the surrounding environment," cites Don Schultz, Sales Manager for 1st in Flowers! "There are numerous scientific studies that support the fact that flowers are highly therapeutic. As natural mood enhancers, flowers and plants introduce color and oxygen into the environment," he comments.
Some of the most popular spring flowers are tulips, lilies, iris, and gerber daisies. "These popular spring flowers are perennial favorites. They bring brightness and cheer into the home or office and nothing says 'spring' as much as a colorful arrangement of tulips or gerber daisies," he exclaims. "The blooms are gorgeous and the color choices are many with both of these flowers! "
1stinFlowers.com offers many vibrant spring blooms for a bouquet or centerpiece. Giving a gift of living color is a great way to chase away the blues and celebrate spring's arrival. With such a wide range of colors and flower combinations offered in their spring collection, they are sure to have everyone's favorite flower. Take a moment and visit the 1st in Flowers! Spring Collection and enjoy the myriad of colors and fragrance that Spring Flowers have to offer.