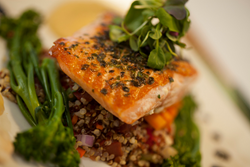 Santa Fe, NM (PRWEB) March 25, 2014
SWAIA is launching its first annual Native Food and Wine event featuring four acclaimed chefs: Lois Ellen Frank (Kiowa), Walter Whitewater (Navajo), Nephi Craig (White Mountain Apache/Navajo), and Jack Strong (Siletz).
The sit-down dinner will feature an incredible four-course arrangement incorporating Native produced olive oil from Séka Hills. A fabulous selection of Native produced wine from Fire Mountain Winery will be featured. The event is a fantastic opportunity to learn about traditional and contemporary Native food as well as a chance to mingle with celebrity Native chefs.
Lois Ellen Frank (Kiowa) is a New Mexico based chef, author, historian, and photographer originally from New York City. Her years of researching Native foods and cultures is documented in her James Beard Award winning book Foods of the Southwest Indian Nations. Frank received her Ph.D. in Culinary Anthropology from the University of New Mexico in 2011. She teaches classes on Native and Southwestern food at the Santa Fe School of Cooking and started her own Native Catering Company, Red Mesa.
Walter Whitewater (Diné) grew up in Piñon, Arizona on the Navajo Reservation. Whitewater's previous chef experience includes Café Escalera and Bishop's Lodge Ranch Resort and Spa. In addition to his restaurant experience, Whitewater also teaches at the Santa Fe School of Cooking and leads a number of community based cooking programs. Whitewater is the Culinary Consultant and Chef de Cuisine for Red Mesa and has appeared on a number of Food TV shows including "Southwest Cooking with Bobby Flay" and "The Secret Life of Southwest Foods."
Nephi Craig (White Mountain Apache/ Diné) is the founder of the Native American Culinary Association, which helps to promote and support Native chefs and Native cuisine. Currently Craig is the executive chef at the Sunrise Park Resort Hotel where he heads an all-Native staff. Craig graduated from the culinary program at Scottsdale Community College and gained valuable culinary experience at The Country Club at DC and as the head chef for international Native dinners in London, Germany, Brazil, and Japan.
Jack Strong (Siletz) started cooking with his grandmother at a young age. He graduated from the culinary program at Lane Community College and is the first Siletz Executive Chef at Chinook Winds Resort and Casino in Lincoln City, Oregon. Strong's past chef experience includes The Phoenician's Windows on the Green and the Five Diamond KAI Restaurant. He is the co-author of The New Native American Cuisine: Five Star Recipes from the Chefs of Arizona's KAI Restaurant. He is also the winner of the Rez Tour competition and Battle Duck.
Where: Hotel Santa Fe
When: Saturday, April 12, 2014, 5-8 p.m.
Tickets: $100 for SWAIA Members, $125 for Non-Members
RSVP Required: Marina 505-983-5220 ext 232