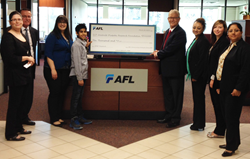 Corporate partners, like AFL, are vital to the success of JDRF's mission to find a cure for diabetes and its complications through the support of research
Spartanburg, SC and Surrey, BC (PRWEB) March 26, 2014
AFL presented the Juvenile Diabetes Research Foundation (JDRF) Canada with a $10,000 grant made possible by AFL's Community Outreach Program. The grant supports the foundation's TELUS Walk to Cure Diabetes, a pledge-based fundraising event that raises approximately $8 million per year for diabetes research.
The TELUS Walk to Cure Diabetes joins more than 45,000 people across Canada along with six other countries to raise funds for research to cure, better treat and prevent type 1 diabetes (T1D), an autoimmune disease in which a person's pancreas stops producing insulin, a hormone that enables people to get energy from food.
"Corporate partners, like AFL, are vital to the success of JDRF's mission to find a cure for diabetes and its complications through the support of research," stated Dave Prowten, President and CEO, JDRF Canada. "Partner support continues to help JDRF in its commitment to developing new and better treatments that improve the lives of people with T1D in the near term, and keep them healthy while we advance toward a cure."
JDRF's goal is to progressively remove the impact of T1D from people's lives. More than 80 percent of the foundation's expenditures directly support research-related education and advocacy. In 2012, JDRF funded research projects in 17 countries.
"AFL's Community Outreach Program commits to connecting with our communities to improve the quality of life through financial and social commitments," stated Shriya Rishi, MBA | HR Business Partner. "We are eager to extend our reach throughout Canada to support JDRF's continued research so that one day they find a cure and eradicate Type 1 Diabetes."
AFL has an extensive community outreach program that provides grants, sponsorships, employee engagement projects, disaster relief and more. For additional information on AFL and its community initiatives, visit http://www.AFLglobal.com.
About AFL
AFL provides industry-leading products and services to the electric utility, broadband, communications, enterprise and OEM markets as well as the emerging markets of oil and gas, mining, nuclear, avionics, renewables and transportation. The company's diverse product portfolio includes fiber optic cable, transmission and substation accessories, outside plant equipment, connectors, fusion splicers, test equipment and training. AFL's service portfolio includes market-leading positions with the foremost communications companies supporting inside plant central office, EF&I, outside plant, enterprise and wireless areas.
Founded in 1984, AFL is proud to offer engineering expertise, exceptional products and reliable service that help our customers improve their critical and electrical infrastructure. AFL has operations in the U.S., Mexico, Canada, Europe, Asia and the South Pacific. The company is headquartered in Spartanburg, SC and is a wholly-owned subsidiary of Fujikura Ltd. of Japan.