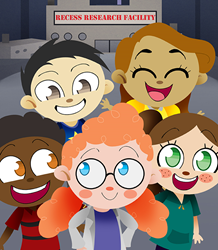 "Tag was our favorite game. When they took it away, we mostly just stood around. The cartoon, it's cool! It would be fun if they showed it at school…as long as the aids don't feel sad."
Clifton Park, NY (PRWEB) March 26, 2014
When the game of tag was banned from recess at nine-year-old Megan Wilks' Macungie, PA elementary school, she was not willing to quietly accept the decision.
Megan liked the game and she wanted it back. Instead of getting angry, she turned to humor and creativity. On her own initiative, Megan took pen in hand and wrote a short script to challenge the school's decision. Focusing on the ban's potential impact on child fitness, she wrote a story about how the inability to play tag will negatively impact her classmates' ability to deal with Zombies—should the need arise. Megan was hoping this cautionary tale would rally support for the return of tag to recess.
While on a family vacation, Megan brought the script to her grandfather, Russell Wilks.
"I have to admit, when Megan said she wanted me to read what she had written, I was mainly being the nice grandfather," said Wilks. "But then I read her work and in just a few pages she had provided commentary on the issues of child fitness and the elimination of traditional playground games by schools. And she is just nine."
Unlike most grandfathers, Wilks was in a position to help Megan with her cause because he runs a film production company in Clifton Park, NY—RPR Studios. He turned the script over to his creative people and the animated short TAG (Protection From Zombie Also Included) was born.
Megan, who voices the character Kid Scientist says of the short "Tag was our favorite game. When they took it away, we mostly just stood around. The cartoon, it's cool! It would be fun if they showed it at school…as long as the aids don't feel sad."
TAG can be viewed on the RPR Youth YouTube channel at:
https://www.youtube.com/watch?v=h1I5HkSOCoc
Inspired by Megan's creation of the TAG story, RPR Studios is developing a new digital series for children called Recess Research. These animated shorts, which will use the characters from TAG, will aim to teach children new and fun games to play together and can be seen on the RPR Youth YouTube page.