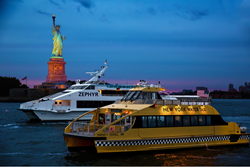 "By having the right technology we can collectively work smarter with our clients and our tourism partners," said Dan Rogoski, Vice President, Sales and Marketing.
New York, NY (PRWEB) March 26, 2014
New York Water Taxi and Circle Line Downtown are splashing into a new era by investing in an array of upgrades to its operations, fleet, and technology. Additionally, the company has relocated to a first class terminal and will offer some new exclusive packages with some of the world's greatest attractions. These improvements come as a continued effort to connect the NY waterfront to some of world's greatest attractions, while offering impeccable customer service, experience and a reliable product.
The New York Water Taxi fleet will not only connect customers to the waterfront-it will now connect them to the internet with the installation of Wi-Fi to all vessels, becoming the only fleet of sightseeing boats in the NY harbor that offers this. All vessels will are being refurbished inside and out creating a greater experience for customers and the blossoming private events and charter segment of the business. "We realize the importance of delivering the best possible product in the marketplace to our customers and are dedicated to getting it right at every touch point. Our customers visit us from all over the world and the private charter side of the business has us hosting events for clients from fortune 500 companies and luxury fashion houses, every detail matters", said Brian McCabe, Chief Operating Officer, New York Water Taxi.
The fleet's luxury yacht, ZEPHYR will receive a multi-million dollar facelift featuring new paint, benches, sound systems, TV screens, dance floor, and two new bars on multiple decks. Lastly, the SHARK speedboat will receive an entirely fresh new look and engine upgrades.
Aside from cosmetic updates, the company is also focused on the customer experience at the point of sale. The All Day Access Pass, which is a core product of NYWT will now move its Pier 84 operations to Pier 79 at 39th street, occupying a contemporary new terminal. This facility will offer customers comfortable seating, air conditioning, restroom facilities and snack purchase opportunities while they wait. "We believe this move will help our customers, partners and employees have an even better experience with us year round, and especially during the extreme summer and winter seasons" adds McCabe.
NYWT is also investing in a digital future with the roll out of a new ticketing system and fully re-designed website which will offer a better user experience and greater capabilities for integration with partners, OTAs and tour operators. The new ticketing system and third party portal on the website will allow tour operators and clients to have their very own log in so that they can fulfill their ticketing and group needs on their own schedules. The new ticketing system will also support a greater breadth of products, packages and upgrades. Additionally the system has the capability to sync with most partners, Online Travel Agents and third party distributors producing a seamless integration for clients. "By having the right technology we can collectively work smarter with our clients and our tourism partners," said Dan Rogoski, Vice President, Sales and Marketing.
The capabilities of the new technology will make it easier to facilitate some of the latest partner packages that New York Water Taxi has managed to secure, including packages with Madame Tussauds, The Intrepid, Open Tours NY and the Empire State Building. "The upgrades that we have invested in will allow us additional opportunities to show our guests all that New York has to offer" adds Rogoski.
The new website and ticketing system will offer easier navigation, a live twitter stream, a better user experience and flow for FIT customers, tour operators, partners, and OTAs. The site is expected to go live in Mid-April. Visit http://www.nywatertaxi.com for more information. Enjoy the Ride!
###
New York Water Taxi (NYWT), an affiliate company of The Durst Organization, Inc., has been a New York fixture since 2002. Beginning with a spunky fleet of five distinctive black and yellow-checkered vessels, today the iconic 12-vessel fleet also includes the vessels of NYWT's sister organization Circle Line Downtown, the speedboat thrill ride Shark, and the luxury yacht Zephyr. Sought after for weddings, special events and corporate occasions, the newly refurbished Zephyr boasts three decks, two full bars, plush climate controlled interior, an expansive dance floor and spectacular views. NYWT's mission is to provide entertaining, stimulating, and enlightening ways to see New York City's dazzling skyline, celebrated bridges, lush waterfront parks and enjoy the City, while maintaining a community-conscious fleet that honors our cherished waterways. For more information, please visit http://www.nywatertaxi.com.
Enjoy the ride ™!