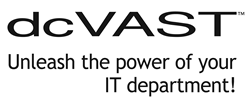 Symantec Master Specialization is the 'black belt' of NetBackup certification for data protection.
Downers Grove, IL (PRWEB) March 25, 2014
dcVAST, an IT infrastructure management and services company, announced that it has achieved Symantec Master Specialization in NetBackup. As a Master Specialist, dcVAST provides its customers data protection services that reduce costs, complexity and risk when working with critical applications.
To achieve Symantec Master Specialization, Symantec requires companies to have many years of real-world experience architecting, deploying and supporting Symantec NetBackup for customers. Master Specialization is like the "black belt" of NetBackup certification.
"Achieving this formal certification demonstrates our commitment to providing the highest quality data protection solutions for our customers," stated Robert Swanson, dcVAST service delivery manager, "Customers can rest assured that when they partner with us, they are partnering with an expert that truly understands the complex solutions required for enterprise data protection."
By achieving this Master Specialization, dcVAST demonstrated an investment and deep expertise in delivering advanced consulting and technical services in Symantec NetBackup. With this Master Specialization, dcVAST will be able to better meet the needs of its customers by delivering high-value consulting services and solutions to protect and manage their information.
"The NetBackup Master Specialization recognizes our partners' ability to deliver advanced consulting, technical and service capabilities to their customers," said John Eldh, vice president, North America channel sales, Symantec Corp. "Master Specialist partners have demonstrated deep investment in Symantec and an expertise in delivering advanced services and solutions to protect customers' most critical information."
Symantec Master Specializations, which recognize partners with a proven expertise in a particular area of business, provide partners with the skills and experience required to deliver differentiated service to their customers. Symantec partners achieve Master Specialization by meeting certain requirements that deepen their knowledge and proficiency.
About dcVAST
dcVAST's IT services and infrastructure management solutions help customers reduce costs and improve operational efficiencies so they can focus on their business priorities. dcVAST works with customers to maximize the value of their IT departments, infrastructure and budget by providing comprehensive solutions and early resolution to problems. Customers experience a "high touch" model, with dcVAST team members located in the U.S. who answer the phone within three rings, with no phone prompts, decision trees or voicemail. Founded in 1988, dcVAST is headquartered in Downers Grove, IL. To learn more, visit http://www.dcvast.com.