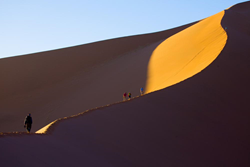 We are pleased to be able to offer a new style of safari in Namibia.
Missoula, MT (PRWEB) March 25, 2014
Adventure Life offers a new African safari that has caught the attention of The New York Times. This tour includes sea kayaking in the Atlantic Ocean, black rhino tracking, and exciting 4x4 excursions. Several treks on foot are also built into the tour, including an exclusive overnight hike through the Tok Tokkie sand dune trails of the Namib Desert. These adventures are complemented by more leisurely activities like cooking classes, visiting a Himba tribe village, and observing wildlife. The New York Times notes the extended 14-day exploration of Namibia as well as the unique activity options available on this tour. Read the full article in The New York Times here http://intransit.blogs.nytimes.com/2014/03/18/hiking-and-kayaking-in-namibia/?_php=true&_type=blogs&_php=true&_type=blogs&_r=1.
"We are pleased to be able to offer a new style of safari in Namibia," said general manager Jonathan Brunger. "This tour highlights the best of the country's culture, adventure opportunities, interaction with locals, and wildlife encounters."
The Namibia Adventure tour starts at $8,795 per person and can depart on any day of the week. Travelers can customize the itinerary and the activity level of the tour according to personal preferences. Other excursions can be added to the trip, including sand-boarding, mountain biking, or nature drives.
To see the details of the Namibia Adventure visit http://www.adventure-life.com/tours/namibia-adventure-3769/.
To explore the world, visit http://www.adventure-life.com or call 800-344-6118.
About Adventure Life
Adventure Life is a company of travelers with a passion for sharing the world with others. Our travel experience runs deep, from years volunteering in rural Africa and Central America, to research trips in Asia, studying in Europe, guiding in the Rockies, and just bouncing around every corner of the world. This deep experience is the reason behind our pioneering approach to travel and award winning itineraries. For nearly fifteen years we have been creating personal itineraries that immerse our travelers in the vibrant colors of a place, leaving both our guests and hosts enriched by the experience. From our beginnings as a Latin America specialist, we now offer private journeys, small group tours, and expedition voyages throughout the world. We pride ourselves on our intimate knowledge of our destinations and our dedication to sharing the world.