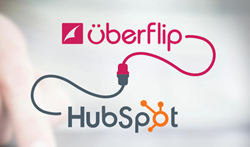 By using HubSpot to help generate, nurture and convert leads, we are creating the best possible experience for our audience, leads and customers and staying on the cutting edge of technology.
Toronto, Canada (PRWEB) March 25, 2014
The magic and science of modern marketing involves creating compelling content that engages customers in order to help generate, nurture and convert leads. Uberflip launched their HubSpot integration allowing users to create the best possible experience for their audience, leads and customers. The integration is aimed at leveraging both HubSpot and Uberflip's own platforms throughout daily marketing efforts.
Premium content is a great way to generate leads and there are several ways marketers can create successful CTAs – a form CTA that collects email addresses and a link CTA that directs people to a site, post or landing page. A form CTA gives customers the option of connecting to their HubSpot account with no IT required. The marketing team can add, remove and update CTAs as offers and goals evolve. As soon as marketers connect to their account, they have the option to link the CTA to one of their HubSpot Smart Lists.
"Technology and marketing techniques are always evolving and by using HubSpot to help generate, nurture and convert leads, we believe we are creating the best possible experience for our audience, leads and customers and staying on the cutting edge of technology," says Yoav Schwartz, founder and CEO of content marketing platform Uberflip. "With this integration, we look to simplify the process for our customers while positioning ourselves as the 'go-to' source in an often crowded and noisy industry," Schwartz added.
In addition to creating a clear path for users, transitioning them from visitor to lead, the Uberflip/HubSpot integration also provides insights into which types of content are most compelling, in a way letting customers score each piece of content based on how well if performs. The key benefit of Uberflip Hubs is the ability to sprinkle CTAs throughout content. Marketers will know exactly which piece of content caught the attention of people on your Smart List, thus allowing customization of lead nurturing emails.
"Uberflip has a solid integration and has been extremely responsive to our mutual customers' needs. Connecting an Uberflip CTA to HubSpot and tracking behavioral data around your content Hub provides a seamless experience for your audience, while giving marketers control over the content experience," said Matt Schnitt, Product Manager, Integrations at HubSpot.
Uberflip & HubSpot allow users to customize content streams targeting a specific buyer persona or topic, place contextual CTAs strategically throughout your content and compare different content types and measure CTA performance. Through the Uberflip / HubSpot integration marketers can:

Generate more leads with CTAs that feed new contacts into HubSpot
Build custom reports to better understand the impact of your content
Trigger lead nurturing campaigns based on content consumption
Change lead scoring based on cross-content engagement
For more detailed information about the Uberflip/Hubspot integration, visit http://www.uberflip.com/hubspot.
About Uberflip
Uberflip makes content perform by centralizing it into one immersive experience, increasing key engagement metrics and generating more leads. By creating an Uberflip content Hub, you can include blog articles, social media, videos, eBooks and more into a beautiful and responsive interface with strategically placed, dynamic CTAs - no IT required. Learn more at http://www.uberflip.com.
About Hubspot
HubSpot is the world's #1 inbound marketing software company. Designed to make marketing efficient, effective, and measurable, HubSpot's all-in-one inbound marketing platform is integrated, powerful, and intuitive to use. More than 10,000 companies, agencies, and non-profits in 65 countries use HubSpot's software, services, and expertise to engage with prospects, leads, and customers through social media, blogs, email, landing pages, and more. HubSpot is headquartered in Cambridge, MA, with offices in Dublin, Ireland, and has been recognized by Inc., Forbes, and Deloitte as one of the world's fastest-growing companies. For the love of marketing, learn more at http://www.hubspot.com.