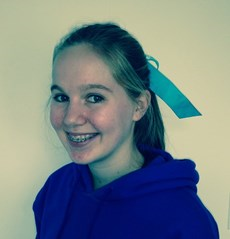 ...it's clear that Maggie has what an Olympiad takes -- ability, focus, and stamina, plus a competitor's desire to seriously test herself.
Owings Mills, MD (PRWEB) March 26, 2014
Garrison Forest School (GFS) freshman Maggie Baughman qualified for the second round of the highly competitive North American Computational Linguistics Olympiad (NACLO). In January, Maggie and 21 other GFS students participated in the NACLO first round, held at the Johns Hopkins University Center for Excellence. Maggie's scores placed her among the 165 students in North America (top 10% of all NACLO entrants) who qualified for round two.
For a taste of what Maggie faced, consider this: Farok crrok hihok yorok clok kantok ok-yurp. That's not a long typo; it's a message of peace from an alien language, Centuari, and an example from a NACLO exam problem, which challenges entrants with linguistics puzzles. CL is the science of understanding human language using logic, computer algorithms and math. CL underpins Google, Facebook, Twitter, Microsoft, Yahoo and many other websites and applications.
On March 13, she took a six-hour exam in the emerging computer science field of computational linguistics (CL) with the 165 other North American qualifiers from across the United States and Canada. In the second round, as in the first, students compete as individuals. The top four or eight students from the 2nd round will qualify as four-person teams in the International Linguistics Olympiad, which will be held in Beijing, China, in July 2014. Twenty-six countries were represented in the 2013 ILO, held in Manchester, England.
A lover of words and languages, Maggie takes Latin and Mandarin at GFS and was awarded two Silver Keys and an Honorable Mention for her poetry and short fiction in the recent Scholastic Art & Writing Awards regional competition. She also had a role in the 2013 Upper School fall play, Much Ado About Nothing, and plays badminton for GFS. Maggie also has a passion for STEM. She volunteered as an Hour of Code student programming coach in December 2013. Her interest in the national Future City competition for Middle School students as an 8th grader led to GFS's pilot effort in 2012 and award-winning first year as formal competitors this year. Maggie lives in Ellicott City, MD.
"We're especially proud of Maggie's NACLO achievement because she was the only student to qualify from the 60+ independent and public school students who participated in the first round at Hopkins," notes Andrea Perry, Director of The James Center, which sponsors the co-curricular NACLO program at Garrison Forest. "We want students to take on this kind of intellectual challenge, just for the experience and the mental thrill. And it's clear that Maggie has what an Olympiad takes -- ability, focus, and stamina, plus a competitor's desire to seriously test herself."