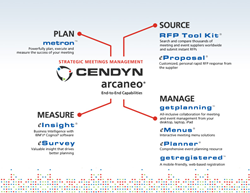 Boca Raton, FL (PRWEB) March 24, 2014
Cendyn Arcaneo, a dedicated full-service agency specializing in turnkey solutions that drive bottom line results for the events industry, today announced that it will be showcasing a new way enterprises can strategically manage their meetings at the upcoming 10th Annual Pharma Forum 2014 (Pharmaceutical Meeting Management Forum) March 24–26th held in Orlando, Florida. The Pharma Forum 2014 is known as the "go-to" event for pharmaceutical and medical meeting professionals in the life sciences industry. The forum, taking place at Orlando World Center Marriott in Orlando, Fla. and featuring more than 60 speakers and 40 sessions, will also cater to hoteliers and other suppliers serving the medical meetings industry.
At booth #402, Cendyn Arcaneo will be sharing how their End-to-End Solutions for the Strategic Meetings Management market streamline the entire planning process for meeting planners, enterprise and suppliers. With the understanding that meeting planners want full control and visibility within their entire event management process, planners now have the ability to manage the RFP process from prospective corporate customers in a more efficient and standardized manner, while simultaneously gaining insights into customer purchasing behaviors. Users can visually research venues, issue RFPs, negotiate business terms and manage the payment process. And enterprises can finally measure the true cost and ROI of their meetings business.
During the conference, Cendyn Arcaneo's President, Robin Deyo, will be sharing how new technologies are advancing how event professionals are managing and measuring their goals and moving them forward. This 'Experience on Tap' session will be held on Monday, March 24, from 3.45-4.15 p.m. EST.
"We are very pleased to be a part of Pharma Forum 2014, and to share insights of how our clients are using technology to better manage their time and spend in an easier way," said Deyo. "Cendyn Arcaneo's solution allows for unprecedented cost savings, efficiencies and responsiveness from internal and external meeting planning teams and suppliers."
Deyo will speak at the Technology Showcase session about top meeting technologies on Tuesday, March 25, 4.00-5.15 p.m. EST. This session will showcase how meeting professionals are using getplanning™, a customizable project management application for meeting planners, which streamlines the event planning process and eliminating bulky binders while keeping all relevant documentation and communication in a secure and central online setting.
Going to Pharma Forum 2014 in Orlando, FL March 24-16th? Visit booth 402 to meet with Cendyn Arcaneo's team and learn how we can increase your revenue with our end-to-end strategic meeting management solutions.
For more information about Cendyn Arcaneo, call 1-855-468-1827 or visit http://www.cendynarcaneo.com/.
About Cendyn Arcaneo®:
Part of the Cendyn® portfolio, Cendyn Arcaneo® is revolutionizing the way enterprises and suppliers plan, execute and measure meetings. With decades of hotel and planner experience, our unparalleled strategic meetings management solutions serve planners, enterprises and suppliers for organizations of all sizes. Over 18,000 hotels and venues worldwide have benefited from our web-based solutions; and with our vast network of preferred properties, corporations can equally benefit from our comprehensive end-to-end solutions, including the ability to plan, execute and measure the true ROI of their meetings business. Supporting over one billion dollars in meeting spend, Cendyn Arcaneo's seasoned development team continues to reshape the industry while exceeding the expectations of our clients. For more information, visit http://www.cendynarcaneo.com/.
About Pharma Forum 2014:
CBI and Medical Meetings' annual forum is highly acclaimed as the must-attend event for life sciences meeting management professionals. Now in its 10th year, Pharma Forum 2014 provides the latest updates on Compliance, Strategic Meeting Management, Globalization, Convention Management and Technology. For more information, visit http://www.cbinet.com/conference/pc14086#.UyHbq_ldVIE.