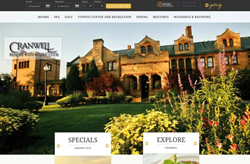 (PRWEB) March 25, 2014
Cranwell Resort, Spa and Golf Club recently launched a new, streamlined website to improve usability and to create an easier, intuitive online experience for all guests. Given the resort's expansive offerings from spa and golf amenities to year-round meetings and weddings, the in-depth architectural redesign now allows site visitors to find information easily and quickly. Another key goal was to engage and inform visitors about the culturally rich Berkshires, centrally located in the heart of New England just over two hours from Boston and New York City. The website reflects the history and spirit of the resort as well as its surrounding beauty. It also showcases the diversity of the resort and the Berkshires including scenic driving tours of the area, Cranwell recipes, interactive Google maps and live social media feeds. Future plans include a blog on wellness, culinary adventures and the world of golf.
Designed by Nichols Interactive, a web site design and marketing agency based in Vail, CO, the site was created by an expert team that specializes in the resort and recreation industries.
About Cranwell Resort, Spa & Golf Club
Cranwell is located just over two hours from New York City and Boston in the historic New England village of Lenox, Massachusetts. This award-winning resort features 114 distinctive guest rooms and suites, an 18-hole historic golf course set on 380 hilltop acres, and is home to one of the largest resort spas in the Northeast. With three restaurants and spacious banquet rooms, Cranwell also hosts numerous year-round conferences, weddings and social events.
Cranwell Resort received the Condé Nast Traveler: 2011 Readers' Choice Award and is listed in Zagat's "Top U.S. Hotels, Resorts & Spas". Cranwell is a partner with Stash Hotel Rewards®, an innovative hotel rewards program that enables travelers to quickly earn free nights at distinctive, independent hotels without blackouts or expiration date restrictions. The resort is also a long-time member of Historic Hotels of America, which preserves the authenticity of over 200 of America's most prominent historic hotels and inns.