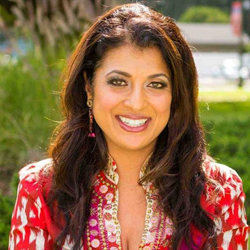 Orlando, FL (PRWEB) March 26, 2014
Romila "Dr. Romie" Mushtaq, MD – a world-traveled neurologist and mind-body physician – is offering a complimentary, one-hour Heal Your Headaches webinar April 8, featuring the integrative and holistic techniques of mind-body medicine.
Headache sufferers can sign up for the full six-week program at http://www.healyourheadaches.com. The full program will cover both education and action steps for headache sufferers to take regarding diet, lifestyle, over-the-counter medications, herbal products, and communicating symptoms to a physician effectively.
Dr. Romie, was working as a practicing and academic neurologist, putting in 70- to 80-hour work weeks, when she began suffering career burnout that eventually caused serious health challenges. She opened her mind to both life-saving surgery and potential cures through mind-body medicine, combining her specialized Western medicine training with Eastern philosophies of yoga, meditation, and traditional Eastern medicine.
She traveled the world to learn yoga and meditation from the masters, and became a national expert in Mindful Living. She has studied the scientific evidence behind traditional Eastern medicine, and now specializes in integrative medicine to promote health and wellness in her clients. Her unique credentials and engaging style have made her a popular speaker.
"The key to preventing headaches, especially tension, stress, and migraine headaches, is to figure out what's triggering them," says Dr. Romie, http://www.BrainBodyBeauty.com. "While migraine and stress headaches can both be triggered by stress, migraines are often symptoms of other underlying imbalances from hormones and diet to toxins and many other possible triggers, and they vary from one individual to the next."
For more than a decade, Dr. Romie has used her expertise in traditional and holistic methods to treat the headaches of thousands of patients. Because migraines and tension headaches are life-altering problems for millions of people, she wants to share her knowledge of neurology and integrative medicine with anyone who hasn't found relief.
People who suffer disabling headaches, especially migraines, bear the brunt of many misconceptions, she says.
"I've had patients tell me they don't have migraines because their headache isn't accompanied by vomiting or other classic symptoms of migraine headaches," Dr. Romie says. "Or they've been told they just have a low threshold for pain, headaches aren't serious, or even that they have no willpower! My goal is to educate patients on the truth behind their tension, stress, and migraine headaches, so that they will be able be an active participant in their healing.
People who experience migraines often have to put their life on hold by missing work and leisure time, and cringe at visiting a doctor with vague yet unmistakable pain.
"With education and knowledge on prevention," Dr. Romie says, "headache sufferers can regain valuable time with their families and jobs that are lost to headaches."
About Dr. Romie Mushtaq
Dr. Romie is a mind-body medicine physician and neurologist. She did her medical education and training at the Medical University of South Carolina, University of Pittsburgh Medical Center and University of Michigan, where she won numerous teaching and research awards. She brings to healing both her expertise of traditional Western training and Eastern modalities of mindfulness. She is currently a corporate health consultant and professional health and wellness life coach at the Center for Natural and Integrative Medicine in Orlando, Florida. She is also an international professional speaker, addressing corporate audiences, health and wellness conferences and non-profit organizations. Her website is http://www.brainbodybeauty.com.