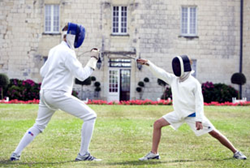 Toronto, ON (PRWEB) March 27, 2014
Butterfield & Robinson—the world's premier active travel company—will refine and expand its lineup of Private Loire Valley tours, offering travellers and families multiple ways to immerse themselves in the region known as "the Garden of France."
Building on its popular Loire Valley Family Biking and Loire Chateaux Biking trips, Butterfield & Robinson's new portfolio of Ready-to-Book Loire Valley tours will bring travellers in deep and up in the valley of kings, medieval home to sweeping horizons, endless skyscapes, gallant knights and fair maidens.
"The Loire Valley offers such a diverse range of activities for travellers of all ages," says Private Trip Designer and Loire resident Jérôme Boré. "From the biking and cuisine to the chateaux and the wine, there's something for everyone here."
The new suite of private ready-to-book Loire Valley tours will launch this spring and complement the company's popular lineup of fully customized Loire Valley Bespoke trips.
Butterfield & Robinson—the world's premier active travel company—designs incredible journeys to the world's most amazing places. Crafted from the finest ingredients (exceptional lodgings, incomparable access, stellar wines and food, experienced guides and more than a few secrets), B&R trips combine adventure with unparalleled cultural immersion in the world's greatest destinations.
For more information on this trip and more visit http://www.butterfield.com.