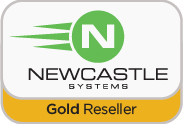 Newcastle's mobile carts and power packs have greatly amplified the benefits our clients get when deploying our AIDC solutions.
Middleton, MA (PRWEB) March 26, 2014
Newcastle Systems has awarded six of its Resellers an upgraded "tier" status for 2014 based on their sales achievements from 2013. At the MODEX 2014 show in Atlanta, Texas Barcode Systems, Peak-Ryzex, General Data Systems, ADSI were all recognized for achieving "Gold" Reseller status in 2014 and both Redline Solutions and Lowry Computer Systems were also awarded "Silver" status (see an overview of Mobile Workplace and Power systems).
Texas Barcode Systems, a leading global supplier of Automatic Identification and Data Capture systems (http://www.texasbarcode.com), was presented with the award by Newcastle Systems' CEO John O'Kelly. Owner and President Dave Edwards, with over thirty years of experience in the industry, spoke about the dimension that is added to their offer via the Newcastle Systems mobile power and cart solutions:
"While the technology for printers, terminals and scanners has continually evolved ever year, the mobile carts and power packs helps us amplify the benefits to our clients by giving them improved through put and increased peak efficiency by virtue of the flexibility it brings to almost any AIDC solution we offer."
John O'Kelly of Newcastle Systems added, "Texas Barcode Systems is one of those partners who really 'gets the future that mobility is going to drive in the workplace and has been instrumental in helping us communicate our value to their clients. We are grateful for the partnership and look forward to even more success together in 2014."
As process analytics reach further and further into every facility, the value of turning your workstations into mobile workstations and providing clean, portable power for all the devices needed has a proven ROI now documented by dozens of major national and international Brands. Contact Newcastle Systems today to learn how you can upgrade your performance without upgrading your facility.
About Newcastle Systems, Inc.
Newcastle Systems is a provider of workplace mobility solutions that include a range of mobile computer carts for every mobile workstation need and a unique power pack system that enables companies to maximize workplace efficiencies with smaller investment. Newcastle Systems mobility solutions are in place around the world helping reduce footsteps in warehouses, speeding receiving operations, improving staffing efficiencies in retail, and providing convenience and ergonomic benefits for employees in many sectors including Manufacturing, Educations, Distribution, Military and other Government entities.
FOR MORE INFORMATION: Please visit our website at http://www.newcastlesys.com or direct inquiries to us via sales(at)newcastlesys(dot)com.