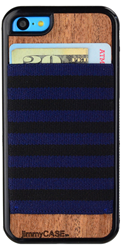 The jimmyCASE case is set to revolutionize how people carry essentials while out or at work.
Los Angeles, CA (PRWEB) March 25, 2014
The folks at jimmyBRANDS LLC note your phone is with you all the time, so why not put the thing to work? jimmyCASE ® is a stylish iPhone wallet case featuring a stretchy elastic pocket for holding IDs, credit and debit cards. The product has room for several cards as well as cash, all of which are kept in an integrated phone case handcrafted using premium materials in eastern Los Angeles. With a genuine, aircraft-grade mahogany core, custom elastics and protective silicone bumper, jimmyCASE is the way to simplify and leave the wallet at home.
The jimmyCASE core is laser-cut and etched from genuine mahogany wood, while the elastics are custom woven locally in the City of Angels. Its integrated silicone bumper and slim design protects the phone but leaves the camera and screen free for use, and the stretchy elastic safely holds cash, ID and other essential cards. jimmyCASE is available for iPhone 5/5S, iPhone 5C, iPhone 4 and Samsung Galaxy S4. Each colorful, hand-knit case features a money-back guarantee. Free domestic shipping is also offered.
About the jimmyCASE Company:
jimmyBRANDS LLC was founded by Daniel Smith, a former TV executive who worked for ABC Family and Playboy Entertainment and produced shows such as American Gladiators.
"When I was a kid, I liked to design and build stylish and fun items in my dad's garage or with my mom's sewing machine," says Smith. "I crafted jimmyCASE in my own garage to fill a need I had for a sleek and functional phone case. Friends took notice and wanted their own; pretty soon I found myself leaving Hollywood to pursue my love of creating and engineering beautiful products to make jimmyCASE full-time."
To learn more about the jimmyCASE or to make a purchase, please visit thejimmycase.com.