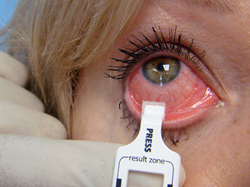 Pink eye can challenge all clinicians, including eye care specialists, because it is difficult to determine if the cause is viral or bacterial based on signs and symptoms alone.
Sarasota, FL (PRWEB) March 25, 2014
Following NBC Sports Olympic Anchor Bob Costas' absence from reporting the 2014 Winter Olympics and the recent outbreak of more than 200 students with conjunctivitis (pink eye) on a college campus, Robert Sambursky, MD, president and CEO of Rapid Pathogen Screening, Inc. (RPS®), highlighted the importance of differentiating between the various forms of pink eye as the country heads into the peak season of this highly contagious infection.
Infectious conjunctivitis can be caused by either a virus or bacteria. It is critical to identify the underlying cause of pink eye to ensure proper treatment and reduce the spread of disease.
"What Bob Costas and the college students experienced is a condition that healthcare providers see frequently, even when it's not making headlines. A swollen red eye can challenge all clinicians, including eye care specialists, because it is difficult to determine if the cause is viral or bacterial based on signs and symptoms alone. An accurate diagnosis combined with the proper course of treatment can help clinicians improve patient outcomes and reduce the spread of disease – helping to limit large-scale outbreaks," said Dr. Sambursky.
Due to the overlap in signs and symptoms, healthcare providers often treat cases of conjunctivitis with topical antibiotics, which are ineffective against the viral form of the infection. As a result, this course of treatment can lead many patients to return to school, work, or even the Olympic stage while still contagious.
Viral conjunctivitis, the form of pink eye that Costas and some of the infected college students were reported to have, is highly contagious, untreatable with antibiotics, and can result in prolonged morbidities even after the primary infection has resolved.
Up to 30 percent of patients with Adenoviral conjunctivitis, the most common cause of viral pink eye, have been shown to develop persistent morbidities including light sensitivity, decreased vision, chronic dry eye, and contact lens intolerance, resulting in extended absence from work and often necessitating long-term therapeutic intervention. "If it was just discomfort, I'd be there," Costas said in an NBC news release. "I simply couldn't do my job because my eyes had become so blurry, watery, and sensitive to light."
AdenoPlus® – a rapid, in-office test that can help detect Adenoviral conjunctivitis from human tears – was created to aid in the diagnosis of pink eye. A nurse or technician can perform the test and the patient can then be isolated while they wait only 10 minutes for the result. The speed and accuracy of the test results help clinicians make an accurate diagnosis and provide the appropriate treatment before the patient leaves the office.
Dr. Sambursky recommends that patients adhere to a physician's instructions following diagnosis but suggests the following guidelines for how to treat the various forms of infectious conjunctivitis:
Viral pink eye:

Wash your hands frequently and try to avoid touching your eyes.
Use artificial tears, as recommended by your doctor or pharmacist.
Apply cool compresses to the infected eye 3-4 times a day for 10-15 minutes. Use a clean washcloth each time.
Use a clean pillowcase each night.
Wear sunglasses if your eyes are light sensitive.
Throw away makeup to prevent re-infection.
Don't wear contact lenses while feeling discomfort, especially if eyes remain red.
Stay out of work, school, or daycare until you have no symptoms (redness, tearing, itching, etc).
Bacterial pink eye: The most common treatment for bacterial pink eye is an antibiotic eye drop or ointment prescribed by a physician. Generally, within 24-48 hours after beginning this treatment, a patient can return to work or school with little risk of spreading the infection to others. Frequent hand washing is encouraged.
About RPS
Founded in 2004, Rapid Pathogen Screening, Inc. (RPS) is an emerging developer, manufacturer, and marketer of rapid point-of-care (POC) diagnostic tests. The company's innovative and patented technology platform facilitates the development of a spectrum of cost-effective tests to support the rapid diagnosis of patients with infectious diseases and inflammatory conditions. As a result of U.S. government contracts, this platform is also being developed to help detect the body's immune response to viral and bacterial infections as well as chemical nerve agent blood toxins. RPS tests have high sensitivity and specificity, and can be easily performed by a clinician or their staff without extensive training or additional equipment. Currently available RPS tests include AdenoPlus to aid in the diagnosis of Adenoviral conjunctivitis (pink eye) and InflammaDry to aid in the diagnosis of dry eye disease. For more information on RPS or its products, visit RPSdetectors.com.
# # #
Media contact: Laura Lovejoy • laura(at)saranova(dot)net • 941.928.9025