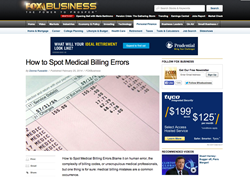 Why is this year different than any other? Americans are becoming more aware of the abusive medical billing practices from healthcare corporations and facilities.
Salem, VA (PRWEB) March 25, 2014
The phones are ringing with increasing frequency at Medical Billing Advocates of America and Medical Recovery Services in Salem, Virginia. The new year is shaping up to be the busiest yet for these two companies that provide education and medical over-billing solutions to consumers, corporations, insurers and attorneys.
Why is this year different than any other? Americans are becoming more aware of the abusive medical billing practices from healthcare corporations and facilities. As prices rise on other basic commodities, consumers and companies are feeling the pinch as healthcare costs mirror these trends.
Pat Palmer, founder of Medical Recovery Services and Medical Billing Advocates of America, has been approached by the media dozens of times within the last two months seeking information on increasing healthcare prices and the profound effect it is having on the U.S. She has gotten international attention as well, with a featured article in Denmark's popular Jyllands-Posten, entitled "World's Most Expensive Circumcision". This story follows one of Palmer's clients who was charged more than $100,000 for a circumcision gone wrong. So far, Pat's company has reduced his medical bills to approximately $6,500.
The Tampa Bay Times and ABC Action News Tampa joined forces and featured Palmer in a two-night television series entitled "Insult to Injury". This program investigated the quickly-spreading Trauma Activation Fee, which charges up to $30,000 to any patient whose arrival is announced ahead of time – no matter what the emergency.
The LA Times came to Palmer for advice on how consumers can protect themselves from incurring mounds of medical debt when they must have a procedure or surgery. Even those who are insured are having claims rejected by their insurance companies. Palmer advises obtaining a prior authorization letter from your insurer to help prevent these types of instances. Having documents in writing will help you beat a non-covered case if the need arises.
Most recently, the Columbus Dispatch in Columbus, Ohio published an article featuring MBAA's Pat Palmer and Jeanne Woodward entitled "Healthcare Law's 'Wellness' Visit Might Not be Free", written by reporter Ben Sutherly. This article examines the "wellness checkup", sometimes referred to as a "preventative visit" and whether or not it is truly a free visit.
In the article, Sutherly explains that under the Affordable Care Act, citizens are able to visit their doctor periodically for checkups to make sure they are healthy and not at risk for certain dangerous diseases and illnesses. However, during many of these "free" visits, doctors are billing the services with a modifier 25, claiming that a significant amount of time was spent addressing these further concerns.
As the year rolls on, MBAA and MRS will be prepared to answer numerous more questions from reporters and journalists and give advice and solutions to those suffering from the American healthcare crisis.
Palmer is the author of The Medical Bill Survival Guide, General Advocate Home Study Course, Self-Insured Corporate Auditing Program, Medical Bill Workbook for Consumers, the Hospital Bill Compliance Manual, and Critical Analyses of Provider Billing, Coding and Reimbursement. She has appeared and been featured on numerous news media outlets such as FOX, NBC, CNN, NPR, and NBC News. Palmer was also featured in the TIME magazine special report titled "Bitter Pill - Why Medical Bills Are Killing Us" by Steven Brill.