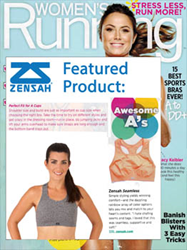 One of the Best Sports Bras Ever
Miami, FL (PRWEB) March 25, 2014
In the March 2014 issue, Women's Running Magazine featured the Zensah Seamless Sports Bra as one of the best sports bras ever. Zensah®, the Miami based compression apparel company, offers the most comfortable compression products for athletes. With the start of spring, the Women's Running issue focuses on helping runners choose the perfect sports bra.
Some recommendations for when shopping for the perfect fit for A cups include taking the time to try on different styles and getting "crazy" in the dressing room to make sure straps are long enough and the bottom band stays put.
The Zensah® Seamless Sports Bra is completely seamless to ensure runners are comfortable and do not experience chafing. Made in the USA, the Zensah® bra features 4-way stretch and a racerback for easy, free movement. The fabric is moisture wicking and antimicrobial, and the bra's wide straps prevent it from digging in. Another major plus is that the bra is available in over 15 colors to match all running outfits.
According to Women's Running, the Zensah® Seamless Sports Bra's simple styling yields winning comfort and the dazzling rainbow array of color options lets you mix and match until your heart's content. One tester said, "I hate chafing, seams, and tags. I loved that this was seamless, supportive, and soft!"
About Zensah: Zensah® is a Miami-based company, specializing in sports compression apparel. Their seamless compression socks, compression sleeves, and full product line are praised by athletes and fitness enthusiasts, including runners, cyclists, triathletes, yoga enthusiasts, basketball players, golfers, and soccer players. Zensah® offers compression products for performance and recovery. According to Leisure Trends, a NDP Group Company, Specialty Running RetailTRAK™, Zensah® is the number three selling sports bra in the USA for Running Specialty.
Parker Robinson
marketing(at)zensah(dot)com
ZENSAH® COMPRESSION APPAREL
(305) 935-4619