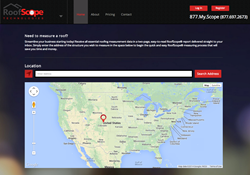 "Our new site is every contractor's ideal one-stop-shop for all their measurement and home assessment needs." -Jerod Raisch, CEO and President of Scope Technologies
Denver, CO (PRWEB) March 25, 2014
Scope Technologies, the leading provider of remote aerial measurements, is pleased to announce the launch of RoofScope®'s redesigned website. The new site features a modern look and strategically organized navigation for a seamless user experience. Another key improvement to the site is the incorporation of Scope Technologies' newest products.
"We added six new industry-changing products, including an app, to the Scope Technologies line," says CEO and President of Scope Technologies, Jerod Raisch. "Our new site is every contractor's ideal one-stop-shop for all their measurement and home assessment needs."
The RoofScope® website is connected to the websites of Scope Technologies' new products: InsulationScope®, GutterScope®, ConcreteScope®, PaintScope®, SidingScope®, and ProScope, the all-encompassing home assessment app.
No matter the type of scope you need, the website redesign helps streamline the ordering process with limited clutter and click-throughs.
"Our goal was to create a site that was aesthetically appealing and effortless to use so that it benefits contractors and their businesses," says Matt Hannan, Director of Software Development at Scope Technologies. "The new site makes ordering scopes quick and easy for contractors, allowing them to streamline their own business practices."
After designing and testing several different user paths in the companies' development and user experience discovery phase, the site was finalized with the perfect navigation patterns to optimize usability. The site even features an Easy Scope Pay option and allows contractors to safely store their credit card information so they don't have to reenter their card information for each order.
While functionality was a top priority, the Scope Technologies design team also wanted the final product to be visually attractive. The site is formatted in a modern, clean, flat design with minimal images, copy and distractions. To view RoofScope®'s fresh, new website, visit https://roofscope.com/.
About Scope Technologies
Founded in 2011 to help companies expand their business, Scope Technologies uses advanced mobile and cloud technologies to provide tools that help streamline processes with the ultimate goal of improving businesses' bottom line. The Denver-based company's visionary leadership, engineering and programming teams develop Scope Technologies' state-of-the-art systems and programs for use in the cloud for optimal delivery and growth.