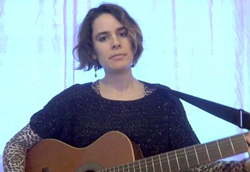 (PRWEB) March 24, 2014
Maria starts off this easy acoustic guitar lesson by explaining what chords are used in the song, which are; Gm, Cm, Eb (E Flat) and Dm7. "This song uses a reggae strumming style", says Lua, which she demonstrates how to play in the video.
Reggae was devolved from Ska and Rocksteady in Jamaica in the 1960's. Reggae is played in 4/4 timing exclusively because of its characteristic off beat style. Unlike most popular music that has musical accents on the down beat, Reggae is played on the off beat or up beat which gives it a very distinct sound and feel from other styles of music. Generally the rhythmic accents are on beats two and four and the Reggae off beat falls on the "and" of the down beats such as the "& of 1".
Maria continues this easy acoustic guitar lesson by performing the whole song so even a total beginner can play along and see and hear how it is played. Complete chord charts and guitar TAB's are available at SongTabs.com.
Robert Nesta Marley, aka Bob Marley, was a Jamaican singer and songwriter and committed Rastafarian. He had his first musical success with The Wailers in 1963 and started his solo career in 1974. Bob was awarded many awards including Rolling Stones band of the year in 1976 and The Jamaican Order of Merit in 1981. He was inducted in the Rock and Roll Hall of Fame in 1994 and received a Grammy for lifetime achievement in 2001. Bob passed away in 1981 from cancer.
Maria Lua
Is a folk inspired singer, songwriter, musician and performer, using melody and lyrics to uplift and motivate her audience. At the end of 2012 Maria and her band descended on professional recording studio Shrunken Heads Studios to record 4 songs for her upcoming E.P. "Free Spirit".
About SongTabs.com
SongTabs.com is a great online resource for learning to easily play your favorite songs on the guitar. With several great instructors and a constant growing catalog of songs, everyone can learn to play there favorite songs.