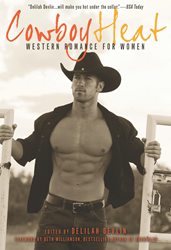 "Devlin Devlin is the go-to for cowboy romance that will make you hot under the collar."—USA Today
(PRWEB) March 25, 2014
Delilah Devlin, one of America's top romance authors, editors, and bloggers, has curated a selection of fiction entitled Cowboy Heat: Western Romance for Women. Featuring fourteen stories packed with the smoldering infernos of classic and modern western romance, this sweet anthology will have readers hot under the collar and yearning for a swaggering cowboy to wrangle them. This collection comes hot on the heels of the wildly successful Cowboy Lust, also curated by Devlin. Hand picked by award winning, best selling author Delilah Devlin, Cowboy Heat satisfies all ranges of cowboy yearnings. In "Mrs. Morgan and the Marshal," a widow takes the next step in her secret relationship with the town's authority, and in "At the Mercy of the Cowboy," a woman applies for a live-in farmhand job that ends up being more than what she bargained for. This anthology is a sizzling testament to the heart-hitching-allure of rugged men who know how to treat a woman right in every aspect, including those south of the border.
What People Are Saying about Cowboy Heat:
"A new anthology of rugged romantics, rough riders, and rope wranglers."
—Publishers Weekly
"Cowboy Heat is a bevy of hot, hard cowboys ready to give you more than an 8 second ride. Believe me, you don't want to miss this collection. I savored each story like a piece of delicious chocolate, one bite at a time."
— Beth Williamson, author of Unbridled
Out of all the Romance for Women anthologies I've read, Cowboy Heat takes the prize. All fourteen stories were scorching hot, and anything you've probably heard about cowboys come true in this sizzling collection.
—Ms. Romantic Reads
Delilah Devlin has published over 60 erotic romance stories in multiple genres and lengths and edited a number of Cleis Press anthologies including the best selling Cowboy Lust, Smokin; Hot Firemen, and High Octane Heroes. Her novels include Down in Texas and Texas Men. She is published by Avon, Kensington, Atria/Strebor, Ellora's Cave, Samhain Publishing, Berkley, and Cleis Press and lives in Arkadelphia, AR.