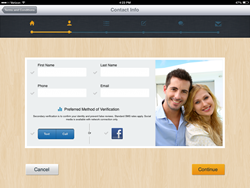 'By making the app easy to use and asking just the right questions, we keep customers engaged long enough for thought-out responses.' -Matt Hannan, Director of Technology
Denver, Colorado (PRWEB) March 25, 2014
Preferred Contractor Network is pleased to announce the launch of PCN Mobile, an easy-to-use app featuring a quick and effective questionnaire for homeowners to review PCN contractors. The survey holds contractors accountable for their work and builds a network of honest homeowner reviews for future customers.
Protects Homeowners from Unreliable Contractors
Customers use the app to rate contractors on a five-star scale, measuring six key service components: Integrity, reliability, craftsmanship, competency, quality, and professionalism. These service components were carefully selected after a deep competitor analysis and a survey of 5,000 randomly selected homeowners revealed that these were the top traits a homeowner looks for when selecting a contractor. Future customers can view these ratings to make a more informed decision when searching for the contractor that's right for them.
"Our rating system ensures future customers receive the best service," said Jerod Raisch, CEO. "When a homeowner searches for a contractor on our site, they know that all PCN contractors have been highly rated by other homeowners."
If a contractor receives an average rating of three stars or less, PCN requests a brief explanation for that rating from the homeowner so that contractors can get constructive feedback and future customers can be made aware of a contractor's shortcoming. Should a contractor not be able to maintain a three-star average, their PCN membership will be reviewed.
Protects Contractors from Dishonest Reviews
The app further protects homeowners and contractors by preventing fake or unscrupulous reviews from being posted. To ensure a contractor isn't posting fake reviews about their own company or competitors, the app verifies the survey taker's identity using two of the following methods: Verification through text message, phone call, email, or social media.
"The challenge with any online review site is that you'll always come across a fake review or a review from someone who drastically exaggerated a bad experience, forever effecting a contractor's reputation," said Raisch. "We needed to find a way to make sure incompetent contractors weren't listed on our site while the quality contractors weren't removed due to unjust reviews."
The solution came in the form of PCN's unique conflict resolution process. Once a contractor receives a negative review, they will be notified of that review before it goes live. They then have ten days to resolve the issue with the customer, who will then have a chance to change the review or resubmit a report of the unfavorable experience.
Specially Designed for Better Results
The app was strategically designed to keep the homeowner engaged and to get the contractor the right type of feedback. It's easy to navigate and contains only a few short and simple questions, which will allow PCN to get more effective responses.
"People don't have time for complicated apps," said Matt Hannan, Director of Technology. "By making the app easy to use and asking just the right questions, we keep customers engaged long enough for thought-out responses."
PCN Mobile is the first review system that equally benefits both the reviewer and the contractor. As homeowners continue to have real, honest reviews available for them, PCN contractor standards will continue to increase, further building the Preferred Contractor Network as the most trusted referral website.
About Preferred Contractor Network
Preferred Contractor Network connects homeowners with pre-selected local contractors. This Denver-based network protects homeowners in their contractor search by only listing the top ten contractors per service category who possess outstanding craftsmanship, high customer ratings, and a proven commitment to PCN's customer service standards.