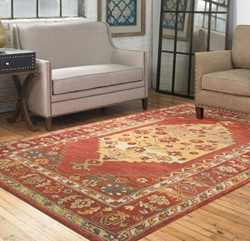 The material of the rug will not only determine what it looks like and how much it will cost, but where in the home it should be placed, what it will feel like under foot, and even how long it will last.
(PRWEB) April 23, 2014
HomeThangs.com – the Online Home Improvement Store has made their goal to deliver the right product to the consumer. With that in mind, shopping and home design tips, as well as special product selections are being introduced.
When buying a new area rug, the first step is always figuring out the proper size rug that's needed for the space. But the second step – choosing a material – is every bit as important. HomeThangs.com has introduced a quick guide to some of the most common materials, including how well they stand up to wear and tear, how easy they are to clean, how they feel underfoot, and how long they'll last.
Wool
Wool is far and away the most common material used to make area rugs, and has been for centuries. That's because the material is ideally suited to the task: wool rugs are extremely soft, hold dye very well, handle heavy traffic, don't crush over time, and develop a beautiful patina as they're used. Wool can be vacuumed, wet cleaned, and gently spot cleaned, and when properly cared for can last for generations. The biggest drawback of wool rugs is their price: they're among the most expensive area rugs out there. That said, because the material is so common, there are a huge variety of different types and styles of wool rugs available at different price points.
Cotton
Cotton area rugs are an affordable alternative to wool. They have a homier, more casual appearance and are generally made in bright, bold colors. While cotton rugs are quite durable and stand up well to heavy traffic, unlike wool they don't age well and aren't made to last a lifetime. One of the main appeals of cotton area rugs is that they're extremely easy to clean; not only do they stand up well to spot cleaning, vacuuming, steam, and wet cleaning, but many can even be tossed right in the washing machine, making them ideal for mess-prone areas like the kitchen.
Silk
Silk rugs are another type of heirloom quality rug, and are actually made of a combination of silk and wool. The silk gives the rugs their distinctive sheen and sleek feel, and can highlight the details in the wool design. Unfortunately, silk is a very delicate material, which means these rugs are best suited to low-traffic areas and can be fussy to clean. The rarity of real silk also makes silk rugs quite expensive, but a beautiful hand woven silk rug is very much an investment piece that will last for many years if properly cared for.
Natural Fibers
Rugs can also be made out of a variety of other plant-based natural materials like jute, hemp, sisal, and sea grass. Prized for their sustainability, natural fiber rugs vary in terms of texture from coarse but soft to very rough and mat-like and are among the least expensive of any type of rug. While they can handle foot traffic just fine, they can be crushed by furniture, and although they can be shaken out or vacuumed and give up loose dirt fairly easily, they can begin to disintegrate when exposed to water, and can fade or become brittle when placed in direct sunlight, which means they won't last as long as more expensive cloth rugs.
Synthetics
There are also several types of synthetic rugs available, including nylon, polyester, and polypropylene. These are made from a variety of synthetic materials, and are designed to mimic traditional wool rugs. All three can be kept in good shape for years with simple routine vacuuming and spot cleaning, but they lack the longevity of wool or silk rugs and can crush under furniture. That said, synthetic rugs are much more affordable, which means they can be changed and replaced much more easily.
Leather
Typically, leather rugs are hide rugs, which naturally vary in size and shape and are best used as accent rugs, often in conjunction with a larger rectangular area rug. But square rugs can be made of leather as well, either in a woven pattern, stitched strips, or a fine knotted fringe that mimics shag carpet. This type of leather rug has the unique, natural feel of leather and is quite soft underfoot. Cleaning techniques vary from piece to piece, and although leather is fairly resistant to stains, this type of rug should generally be reserved for lower traffic areas.
To find out more about specific natural fibers and synthetic rug types check out the full article here.
HomeThangs.com is not only a home improvement superstore, it also provides expert design tips and a comprehensive shopping guide, taking the ideas from professional interior designers, and offering tips to the consumers on how to pick the products to best suit their needs.