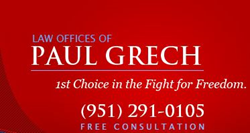 Riverside, CA (PRWEB) March 24, 2014
The Law Offices of Paul Grech has a new Riverside criminal defense lawyer on its legal team. Ryan Ahern has officially joined the law firm as an associate attorney. Mr. Ahern is now able to assist Attorney Paul Grech, Jr. in helping individuals throughout Riverside and San Bernardino, Calif. to properly defend themselves when they are facing criminal allegations.
Attorney Ahern is a graduate of Loyola Law School in Los Angeles. While he was in law school, Mr. Ahern took advantage of various opportunities to get hands-on experience in field of criminal law. He was a Public Interest Scholar who had the opportunity to work for both the Los Angeles District Attorney's office and the Orange County Public Defenders' office, which gave him insight into how both sides of the criminal justice system operate. Working for the Los Angeles District Attorney's office gave Mr. Ahern the opportunity to complete many different types of felony preliminary hearings in courthouses located in Downtown Los Angeles and Compton. He also gained valuable experience while serving as a judicial clerk for Justice Woods at the California Court of Appeal District Two, Division Seven.
Mr. Ahern additionally took part in campus-related activities as law student. He served as chair of the Scott Moot Court Honors Board, he participated in the Hobbes Trial Advocacy Clinic, and he was admitted to the Saint Thomas More Honor Society and the Alpha Sigma Nu honor society. Furthermore, both before and after taking his Bar Exam, he provided assistance in preparing capital cases for trials in both Los Angeles and Riverside County. After passing the bar, he additionally assisted with California criminal appeals. Today, Attorney Ahern is a member of the Riverside County Bar Association, the Riverside Barristers, the Los Angeles County Bar Association and the Criminal Attorneys for Criminal Justice.
In his new position as an associate attorney at the Law Offices of Paul Grech, Attorney Ahern works alongside Attorney Grech, who is a Bar-certified specialist in criminal law. Attorney Grech is also a former Deputy District Attorney, a member of the National Trial Lawyers Association: Top 100 Trial Lawyers and an attorney who has been included in the Southern California Super Lawyers® list.
The Law Offices of Paul Grech is proud to have Attorney Ahern as a new member of its criminal defense team. He serves as a valuable addition to the law firm, which assists with a diverse range of criminal cases. Whether clients are accused of simple trespassing offenses or of murder, the attorneys at the Law Offices of Paul Grech offer competitive legal representation. Individuals who are facing criminal charges in Riverside or other parts of the Inland Empire should not hesitate to consult with an attorney from the law firm. For more information about the Law Offices of Paul Grech, visit http://www.riversidecriminaldefense.com.