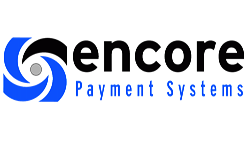 Addison, Texas (PRWEB) March 25, 2014
Most small business owners would agree that credit card theft from their personal electronic processor is one situation they do not want to experience. Every year millions of Americans become victims of credit card identity theft, and in many cases their information is stolen directly from an electronic payment system. Moving into 2014, Encore Payment Systems payment terminals will support EMV (Chip & PIN) transactions and offer additional security features such as password protection and receipt truncation. Encore launches support of EMV (Chip & PIN) technology a full 2 years ahead of 2016 requirement.
EMV (Chip & PIN) technology will soon replace the magnetic stripe security on all credit and debit cards. This advanced technology provides for a more secure transaction and reduces the risk of fraud. Consumers enter a unique pin (personal identification number) allowing the chip to instantly verify that the consumer is actually holding their own device and to authorize the transaction. This new technology will minimize card counterfeits, protect against lost and stolen cards and reduce transaction disputes.
Today's consumer demands secure card transactions and stronger safeguards against fraud. Encore provides merchants with the technology to meet those demands. Encore recommends that merchants upgrade their electronic payment systems now to provide safer, smarter transactions for their customers before deadlines begin. As 2016 gets closer, demand is likely to drive equipment costs higher. Encore can help merchants avoid that crunch and provide time to adapt to the new payment technology. Encore provides complete support for merchants with a staff of EMV specialists to assist the customer with the adoption of the new technology, providing for a smooth transition from their current system and equipment.
About Encore Payment Systems:
Encore Payment Systems was established for the purpose of providing electronic payment processing solutions and other value-added services to small and medium-sized merchants throughout the United States. Encore is a leader in the electronic payment processing field providing credit card, debit card, ATM card, gift card, prepaid card, EBT and check processing services. Encore maintains a sincere dedication to superior customer service and an honest and ethical approach to acquiring new customers. This vision has enabled Encore to become one of the fastest growing companies in the industry excelling in all aspects of merchant services. Encore Payment Systems is located at 3801 Arapaho Road, Addison, Texas 75001. For more information, visit http://www.encoreps.com , http://www.twitter.com/EncorePS or http://www.facebook.com/EncorePS