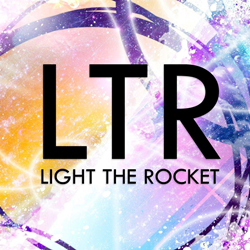 LTR continues to light up the stage with their energy and explosive delivery
Los Angeles, California (PRWEB) March 26, 2014
LTR's recently released debut self-titled album represents the adventurous and electric spirit of the band. Their catchy tunes will have you hooked and leave you exhausted on the dance floor. The American Pop Rock band has captured the attention of their San Jose community, local radio stations, and continues to gain traction and receive praise from music industry A&R's, Publishers and Record Labels all over the county. In 2012 they took home a Musician of the Year award at the RAW Awards, and have made their way out of the studio in 2014 to share their new music with their fans.
Though the band is proud of every song on the album, "Colors," has taken a special place in the hearts of LTR fans and their band members. "You can just feel the energy in their music, and their clever lyrics keep fans on the edge of their seats craving more," comments their publicity team at DNT Entertainment.
LTR continues to light up the stage with their energy and explosive delivery despite the struggles they faced prior to releasing the album. "A lot of blood, sweat, tears and time went into perfecting this album, but the hard work was all worth it," says Light The Rocket Vocalist Adam Leon and Bassist Jason Christensen.
After displaying perseverance and strength continuously throughout recording the album, the band flew to Austin, Texas to rock the Music Gorilla Showcase during SXSW earlier this month. The energy of the fans ignited an even greater flame that continues to burn under Light the Rocket. To experience the force behind Light the Rocket for yourself, you can find their album "Light the Rocket" on iTunes or Spotify.
You can also catch Light the Rocket live at the Hotel Utah Saloon in San Francisco on April 18th at 9:00. Tickets are on sale for $8 at https://www.songkick.com/concerts/19847664-light-the-rocket-at-hotel-utah-saloon
For additional information on Light The Rocket, or to hear their latest music, please visit http://www.ltrmusic.com.
All media inquiries or photo requests, please contact cat(at)dntagency(dot)com or danithompson(at)dntagency(dot)com.