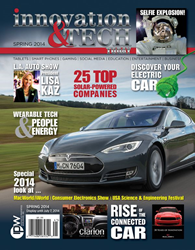 We debuted our publication 15 months ago at MacWorld, so to be returning this year with our spring issue and a much larger presence is incredibly exciting... Publisher Charles Warner
Denver, CO (PRWEB) March 25, 2014
Innovation & Tech Today, a publication chronicling cutting-edge developments such as 3-D printers, wearable technology connected cars and everything in between, has announced they are an official media partner of MacWorld/iWorld 2014, the largest expo for Apple products and accessories in the world, taking place March 27th-29th, in San Francisco, California. The Spring Issue of Innovation & Tech Today will be included in the VIP Speaker Bags given to the top 175 media members covering the event, a full two weeks before national newsstand distribution.
This is the second year that Innovation & Tech Today has participated in the wildly popular expo. "We debuted our publication 15 months ago at MacWorld, so to be returning this year with our spring issue and an even larger presence was exciting for us," Publisher Charles Warner said. "We've evolved into a perfect bound 168pg. quarterly magazine filled with product reviews, new trends in technology and business, as well as interviews with industry headliners like Mark Cuban, Mike Rowe, Beth Comstock and Chris Voss. We can't wait to debut this connected car issue to the people at Macworld."
Senior Editor Robert Yehling emphasized he was excited about the strength of the editorial content, as well as the continued relationship with MacWorld . "We talked to Consumer Electronics Association President and CEO Gary Shapiro, and LA Auto Show Executive Director Lisa Kaz, one of the most influential women in business and technology today. In addition, we did a lot of reviews for products related to Apple, and will be giving away some of our favorites during the expo."
Innovation & Tech Today will also be a featured exhibitor at MacWorld, and will be giving away over $10,000 worth of prizes over the weekend, from advertisers such as CEO Space, Martian Watches, FUJIfilm, Darbee Vision, Edifier, Aspect Solar, Zuca, Smartenit, Enerplex, Berg Toys and iPocketLoop. They will be at booth #530 where MacWorld attendees can stop by to receive discounted subscription specials and a chance to win these prizes.
The Spring issue of Innovation & Tech Today will be on newsstands nationwide, including every Barnes & Noble, on April 7th, 2014. However, by attending MacWorld or subscribing online, it is possible to see the new issue before anyone else. I&TT is also excited to announce that for a limited time, in honor of MacWorld, they are offering a yearlong digital subscription for only $2.99.
Innovation & Tech Today is published by Innovative Properties Worldwide, Inc., headquartered in Denver with offices in San Diego and Clearwater, FL. It is available on digital formats through Zinio and iTunes, through print and digital subscriptions, and on newsstands nationally — including all Barnes & Noble locations.
For more information, contact Kelsey Elgie at (720) 708-4250, or visit http://www.innotechtoday.com.