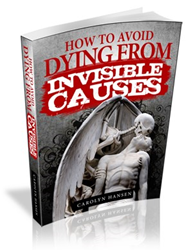 'Carolyn Hansen is the real deal. Not only is she a brilliant health and fitness coach and trainer but her products are life-changing.' - Dr. Joe Rubino
WHANGAREI, NEW ZEALAND (PRWEB) March 26, 2014
Sustainable Fitness Solutions announces release of special report "How To Avoid Dying From Invisible Causes" - http://CarolynHansenFitness.com/invisiblecauses1/ - April 1, 2014.
Living the lifestyle of a health and fitness professional has consequences. As Carolyn Hansen is discovering, one of the worst of them (or is it the best?) is that you tend to outlive your friends.
As the years have passed by, Carolyn has become painfully aware that many of her friends and acquaintances are dying long before she believes they should. The trouble is, according to census reports, the rates of premature death in the developed world are not the least bit unusual. They are "high" everywhere - the consequence of an increasingly sedentary lifestyle and the ongoing industrialization of food which continues to lower its nutritional value.
The truth is, says Carolyn, one has to be vigilant if one is to have any hope of living out their full allotment of years, which for a human is around 120.
"I am absolutely determined to live at least that long," she says. "I'll do it alone if I have to, but I really would prefer the company - which is why I wrote my report."
She is talking about "How To Avoid Dying From Invisible Causes," her special report that she hopes her remaining friends and the rest of the world will read. If she has it her way, they will then be spurred into action and take the necessary steps to keep premature death at bay.
Inside the report she claims to reveal:

Death's Top 4 Tricks
Why Death Comes Earlier Now
Why You Won't See It Coming
What To Do To Stay It's Approach
For someone who is constantly preaching the benefits of the healthy living lifestyle to her subscribers, and putting a positive spin on all of her messages, the theme of the report has caused some people to do a double take.
"Frankly, this email shocked me," said one of her followers on reading the message announcing the availability of Carolyn's special report on death. "It was not something I expected to see in my inbox. Yet, the subject does cross my mind from time to time; after all, I am 57 years old now."
The author of the unsettling piece said that she does not mind unnerving her flock once in a while. "Anything I can do to raise people's awareness on this topic is worth the risk of having them switch off completely. After all, the alternative is ignorance, settling for less than you deserve from life, and quite possibly an early, protracted, and painful passing."
The controversial report, with its creepy but thought-provoking cover image, is less than 20 pages in length and can be downloaded from the following page:
Go here to download "How To Avoid Dying From Invisible Causes."
If the idea of suffering in the future from crippling disease which would leave you bedridden and unable to move frightens you more than reading about what it might take to avoid this scenario altogether, then maybe Carolyn's report will be worth the ten minutes it takes to download it and read it from cover to cover.
Not only might it not be as unnerving to read as you imagine, but it may even add decades to your life span.
Carolyn Hansen is a certified fitness professional who owns an Anytime Fitness gym in Whangarei, New Zealand. Her previous products include Strong Men Stay Young and Stop Weight Loss Resistance.