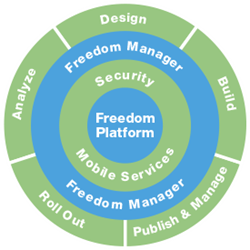 Chandler, AZ (PRWEB) March 26, 2014
appsFreedom™, a leading provider of enterprise mobility, announced today that it will be demonstrating the latest version of its award-winning mobile platform on April 1-4, 2014 at SAPinsider's CRM 2014 conference in Las Vegas, NV. The all-new, powerful Freedom Platform, a Multi-Channel Multi-Device Platform-as-a-Service for SAP, enables enterprises to quickly and efficiently design, collaborate, build, deploy, manage and analyze mobile apps throughout their organization in 2-to-4 weeks.
The Freedom Platform comes with several game-changing innovations like "breaking the SAP API barrier" with the ability to quickly discover and visually integrate any standard or custom SAP program; embedding an end-user based design philosophy with collaboration and feedback inside the platform; incorporating a visual develop-once and run-everywhere element to develop apps in a mobile and web environment; and allowing easy deployment and maintenance with a corporate app store, all with a very light footprint and the ability to mobile-enable hundreds of employees in 2-to-4 weeks, providing the fastest time-to-value in the industry.
The Freedom Platform and the company's pre-built and ready-to-use app templates combine to deliver an enterprise mobility user experience like never before, leading to significantly increased levels of user adoption. The appsFreedom solution is offered under a simple per-user subscription-based pricing model. The solution has no limitations on the number of apps, devices or transactions, and customers can incrementally add apps or users at any time.
About appsFreedom
appsFreedom™ is the leading provider of Multi-Channel Multi-Device Platform-as-a-Service for SAP that enables companies and their employees to achieve 'Workplace Freedom'. appsFreedom drives business productivity with the Freedom Platform and its pre-built ready-to-use Freedom App templates, which empower enterprises to design, collaborate, build, deploy, manage, analyze and run mobile apps in a multi-channel multi-device environment. appsFreedom is available in a simple user-based subscription model providing customers with low risk and significant flexibility. With appsFreedom, business users access their enterprise applications rapidly and securely from any device, anytime, anywhere. Global companies across the industry spectrum rely on the appsFreedom solution for highest ROI in the marketplace. To learn more, visit http://www.appsFreedom.com.