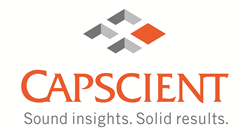 CAPSCIENT has developed a strong understanding of OBAs. Placing OBAs at the core of CAPSCIENT's Oracle Accelerate solutions for implementations and upgrades drives additional value to Oracle'sJD Edwards EnterpriseOne clients. - Steve Cox, Oracle's VP
Irving, TX (PRWEB) March 26, 2014
CAPSCIENT Takes Collaborate Conference, Las Vegas, by Storm
CAPSCIENT Sponsors CIO / Executive Forum, to Deliver Four Speaker Sessions and Announces Publication of Article on Oracle Business Accelerators
CAPSCIENT today announced that it will be participating at the COLLABORATE 2014 Conference in Las Vegas, April 7 through April 11, 2014. CAPSCIENT has sponsored the following events and will be a speaker at the following sessions:
CIO / Executive Forum, held on Wed Apr 9, 2014, 8:15am to 6:15pm
CAPSCIENT will be sponsoring the session and will have the CAPSCIENT executive team in attendance.
"Don't let disaster strike your system" by Allen Jacot our VP of Technology and co-author of four Oracle JD Edwards reference guides (April 10 @ 1:00 pm - 2:00 pm)
It seems every time you see the news all you hear about are floods, tornados, and other disasters. When these hit, it is not the time to start asking about your disaster recovery strategy. Learn how to determine what your true system DR requirements are before disaster strikes.
"E1 Pages a Mystery no longer" by Allen Jacot (April 10 @ 8:30 am - 9:30 am)
In this session you will learn about the power of E1 pages. This wonderful technology has been a mystery to some users for some time. You will see how to implement pages, maintain them, customize them, and even add portlets into them.
"How UPK Benefits End-User Training & Implementation Improvements" by Lupe Reyes (April 11 @ 9:45 am - 10:45 am)
UPK is a tool that benefits organizations end-user training and implementation improvements when capturing business practices. A team's input creates documentation in which they produce multiple outputs through recording sessions.
"Effectively using OBA for your E1 Implementation" by Sagar Malvankar. (April 8 @ 5:30 pm - 6:30 pm)
Oracle Business Accelerators (OBA) are the secret ingredient to implementation success. Using OBAs aligns the software and your configuration to industry process best practices, keeps the implementation scope within the boundaries set to ensure an on-budget, on-time and quality implementation. Using OBA's helps to drive quicker and simpler implementations.
CAPSCIENT is also pleased to announce the release and publication of an article entitled, "Oracle ERP Implementation Secret" written by Dale Kaplan (Vice President) and Sagar Malvankar (Sr. Director) that outlines how Oracle Business Accelerators is a viable choice for any implementation. The article is published in the Oracle Scene Magazine and is posted on the Oracle Midsize Website. A copy of the article is available here: http://www.oracle.com/us/solutions/midsize/oracle-erp-implement-secret-ar-2159192.pdf.
CAPSCIENT has over 200 square feet of booth space in the exhibitor hall. Please visit them at booth #724. If you have any questions, please contact CAPSCIENT at either sales(at)CAPSCIENT(dot)com or info(at)CAPSCIENT(dot)com.
ABOUT CAPSCIENT
Headquartered in Irving, TX and with offices in Los Angeles, CA and Denver, CO, CAPSCIENT is one of the nation's leading JD Edwards consultancies and value systems integration firms specializing in Oracle services. CAPSCIENT is an Oracle Platinum Partner and is certified to implement Oracle's Business Accelerators for JD Edwards EnterpriseOne's latest release.
Come and visit CAPSCIENT at Collaborate 2014 in Las Vegas - Booth #724. (April 7th through April 11th 2014)