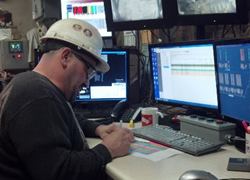 Denver, PA (PRWEB) March 25, 2014
High Concrete Group's Denver, Pa. headquarters facility is now operating one of the premier precast automatic batch plants in the country. An extensive upgrade last fall has automated key processes, introduced new cost efficiencies, and reduced errors, waste, and inventory variances associated with manual processes.
A cross-functional team led by Rick Dickerson, manager of strategic projects, based the recommendation on best practices from the US and Europe. The new system utilizes state-of-the-art computer technology to dramatically increase the measurement accuracy and control of free moisture in the process. The high degree of control permits minute adjustments that substantially improve strength, color, and finish. The system will also allow us to expand our use of self-consolidating concrete in both structural and architectural products.
As part of the upgrade, the team added a new silo for slurrified silica fume which is added to high-strength mixes. Only the second of its kind in the country, the equipment dispenses material with virtually no tolerance. It simplifies work for demanding applications.
In addition, the system frees the existing silo for the introduction of fly ash to mixes, a first for High Concrete. Fly ash is a waste stream material that lowers costs while improving the workability and durability of precast concrete. A new low-pressure air system feeds the cementitious powders while keeping oil and moisture out to ensure uninterrupted flow. Recent activities include:

Developed and implemented a conventional structural fly ash mix for the Robert Wood Johnson PG project. This was a reduction in cost of 13.5% over the mix previously used.
Ongoing development of an SCC fly ash mix which should result a reduction in cost of 4.6 percent over the current high volume double tee mix in use.
Ongoing development of architectural SCC mixes for future jobs. Current tests yielded favorable results including easier pouring, easier back finish application, minimal air voids, overall aesthetic improvement, and minimal patching required when compared to current conventional mixes.
Development and implementation of a new SCC high-strength girder mix resulting in a 9.6 percent cost reduction
About High Concrete Group
Headquartered in Denver, Pa., and employing more than 500 people, High Concrete Group has provided precast components for more than 5,000 projects since 1957, and is found on Engineering News Record's list of the Top 600 Specialty Contractors. High Concrete Group operates precast concrete production facilities in Denver, Pa., and Springboro, Ohio. The company also operates High Concrete Accessories, a Denver, Pa.-based national precasting embedment supplier. Visit http://www.highconcrete.com or email concrete(dot)answers(at)high(dot)net.